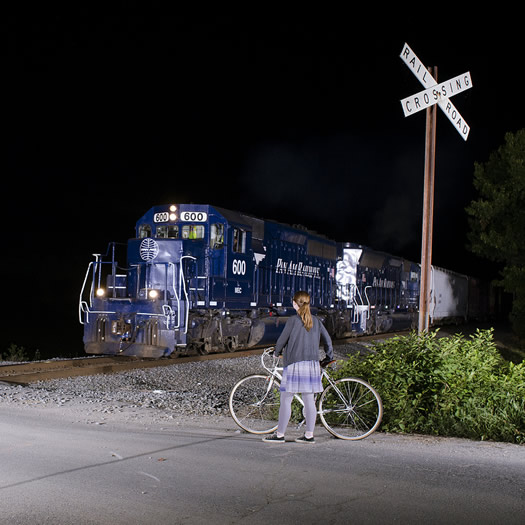 This Friday as part of Troy Night Out local photographer William Gill will be at Anchor No. 5 talking about his collection of train photos taken at night -- and how he does it. William explains in an email:
A few years ago, Troy resident Jim Shaughnessy released a new railroad photography book and I saw his night photographs from the 1950s for the first time. Very inspiring work. So much so that I went out and started shooting at night. The first photos were pretty terrible but they got much better quickly. Soon, I started wandering the capital region (and beyond), doing large lighting setups along the tracks, capturing some of our unique scenery and built environment. Working at night allows me to capture images from the half the day that few see and also to photograph some scenes that would be difficult to under sunlight.
The process is unbelievably slow, which is as much a reaction to the complaints about digital photography and the ubiquity of cameras as it is anything else - if everyone has a camera, I want to make images that few others would try to make. In the end, slowing down the photography has been very rewarding - while many chase trains from their car and shoot photos from a few, well-worn locations, I'm able to spend all night setting up in hard to reach locations. ...if I'm only going to get one shot in a night, why not spend an hour paddling a canoe full of lighting gear to a remote location?
His website includes a bunch of photos, along with backstories and some of the unusual setups he uses.
photo: William Gill
Hi there. Comments have been closed for this item. Still have something to say? Contact us.