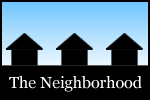 Among the topics in this most recent spin around the Capital Region's online neighborhood: the slaughtering of a steer, Schenectady as Queens, a stiletto to the kneecap, a secret society, a manhole explosion, the Craigslist wedding date brothers, Healthy Living Market, grocery spelunking, the flavor-per-dollar scale, food trucks, a wing burger, a giant of printing, booze and Campbell's soup, Mt. Marshall, a "whale museum," and old traffic switches.
Jon documented the slaughter of a home-raised steer: "I'm going to have a lot of beef, or I'm going to be a vegetarian with a lot of beef to give away."
Nora says Schenectady is Queens to Albany's Manhattan.
Stephanie on "one of the single most insulting things someone could say to me" and "a pointed-toe stiletto to your kneecap."
Nicole says the gym at 5:30 am is "like a secret society."
Matt shared photos of the damage from the manhole explosion at the Olde English.
We get the sense Kristi felt a bit jilted by the Craigslist wedding date brothers.
KB did a quick price comparison between Healthy Living, Hannaford, and Trader Joe's.
Daniel says there's "good and interesting food all around us," especially at some of the often overlooked markets.
The Beer Doctors recapped a beer "brawl" at the City Beer Hall.
The Masticating Monkey: "I don't know if you can score any higher on the flavor-per-dollar scale than with lunch at Tara Kitchen."
Steve asked people about their favorite Capitol Park food trucks.
Jerry tried the wing burger at the Ruck.
Ashley enjoyed a "beautiful, quiet" dinner by the fireplace at the Wishing Well.
The Idiots endorsed the limited-time-only hot cross buns at Mrs. London's.
As the TU starts up its new press, Carl noted one of the giants of printing in Albany -- a century ago.
Akum shared a photo from an Albany bar back in the day: booze and Campbell's soup.
Rob lamented the state of Wellington Row.
Jona hiked Mt. Marshall.
Jackie got an up close look at snow fleas -- which are not fleas, and not even insects.
Chuck shared some photos from an upcoming exhibition.
Albaniana visited her son's fifth grade "whale museum."
And Randal took a moment to appreciate the wonderful noise made by Albany's old traffic light switches.
Hi there. Comments have been closed for this item. Still have something to say? Contact us.