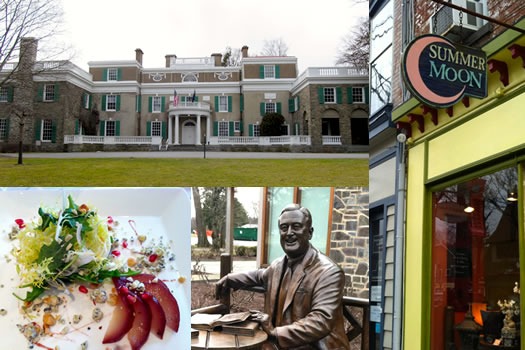 By Casey Normile
Upstate New York is clearly the most interesting part of the state. Clearly. But, begrudgingly, we have to admit that downstate has a lot to offer as well.
One example: our recent destination, Hyde Park -- pleasantly situated on the east side of the Hudson, just north of Poughkeepsie, about an hour-and-a-half drive from Albany on I-87.
The surrounding area is full of food, scenic views, historical sites, and shopping...
Lunch at CIA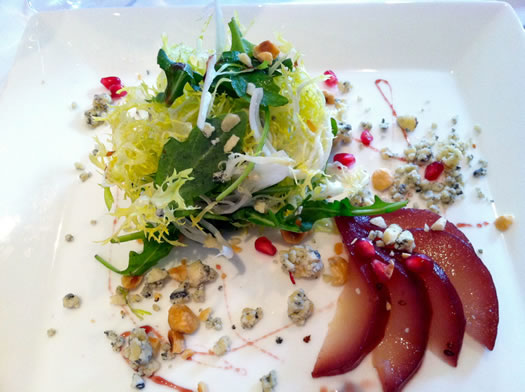 A pear and blue cheese salad.
Before any history or scenic Hudson views, we wanted to eat. And while many of the restaurants in the surrounding area are owned or operated by alumni of the Culinary Institute of America, we decided to go straight to the source.
The CIA campus itself has five restaurants at which students are both the chefs and the servers. It's kind of like their labs. Make sure to get a reservation. We called in the morning for a same day reservation and managed to get one of the two remaining spots for the day, but that was lucky. Spots fill up fast, so call ahead.
We went to St. Andrew's Café, the "farm-to-table" restaurant on campus. It's a certified "green" restaurant, which basically means they use local ingredients whenever possible, they recycle, compost, conserve energy, and don't use Styrofoam to-go containers.
Oh, and the food? The good thing is that you can expect the CIA students to do their best to impress you. At St. Andrew's, the theme seemed to be "take interesting ingredients to make familiar dishes." For example: I had the house-made butternut gnocchi with roasted butternut squash, toasted pumpkin seeds, sage and Caciocavallo cheese -- it was simple but delicious. I ended up with a little bit of food envy for my sister's dish: the barbecue grass-fed burger. It was topped with bacon and blue cheese on a grilled bun with perfectly seasoned meat. She's a pretty serious meat eater and she said it was one of the best burgers she's ever had.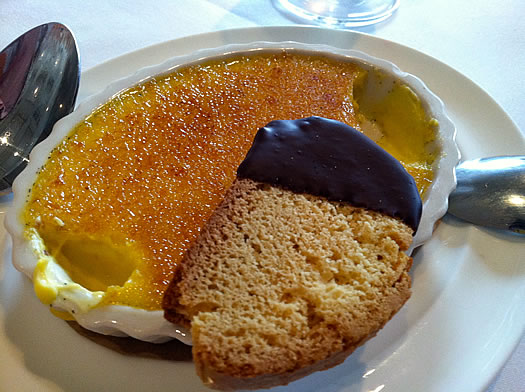 But the real highlight of the meal was the maple crème brulee. Everyone should have this dish -- full of maple flavor, but not cloyingly so -- at least once in his or her life.
It's important to note that the servers and hosts are students. And while I'm sure they're extraordinary in the kitchen, out on the floor, some of them are fish out of water. Service is attentive, but awkward. (Exhibit A: A waiter opened a bottle of champagne over a woman's head with terrible results.) But the experience of being in a restaurant where the entire staff is still learning was interesting and humbling.
FDR's home
For the historic portion of our day, we chose to tour Franklin Delano Roosevelt's home, Springwood. The tour is $14 and is a good post-meal adventure to fight off the inevitable food coma after such a serious lunch.
FDR's home is kept exactly as he left it. The same prints and Revolutionary War cartoons hang on the walls, his collection of birds -- hunted and stuffed -- still stand in a glass case in the foyer, and the head chair at the dining room table is pushed out as it would have been for Franklin to transfer from wheelchair to dining chair.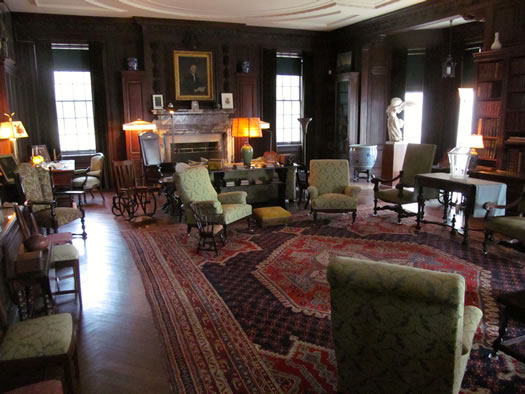 Our tour only had about ten people aboard; it's busier during the summer. You see the grounds, his grave, the stables, the house, and can even visit the library and museum afterward. The most interesting part about the tour is that it's not just a house he spent a year or two in. Some historic homes you tour will brag that the famous resident spent an entire decade or even just their summers there. But this was the home FDR was born in, grew up in, where he raised his family, and where he planned to live out the rest of his days after his presidency. It was truly the home he loved. You don't have to be a history dork to appreciate that.
Rhinebeck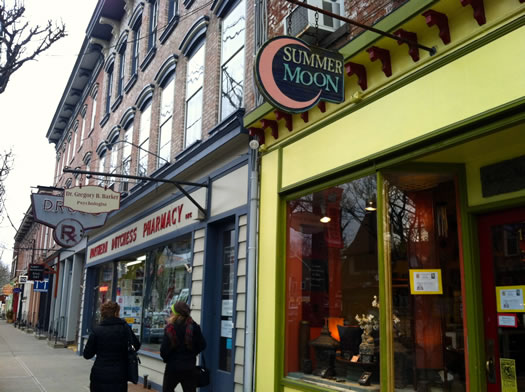 After food and history, there is plenty to choose from in the area. There's the Hyde Park Brewing Company (right across the street from the National Historic Site), other historic homes, the Walkway over the Hudson in Poughkeepsie, or even the city of Hudson an hour north as a stop on your way back home. But we decided on Rhinebeck.
Only 20 minutes north of Hyde Park, the small town is a great stop for its old homes, restaurants, boutiques, and shops. The hub for all of this is the intersection of Market St. and Mill St. It's pedestrian-friendly, so we just parked and wandered for a while.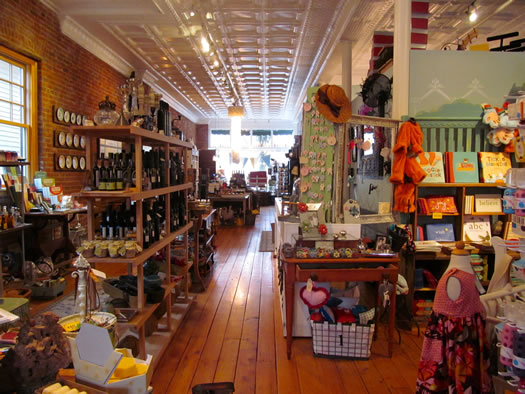 Rhinebeck's shops are full of makeup, perfumes, candles, purses and totes, one-of-a-kind clothing and jewelry, antiques, beautiful stationery, cooking accouterments, and everything nice. (Although it might not be as much fun for male companions.) There are also restaurants, cafes, bakeries and simple pizza shops if you want to grab dinner before you head home.
It's great for gift shopping, but plan carefully -- most shops close at 5 or 6 pm.
Hyde Park is just one stop downstate but it's right at the center of quite a bit of history. The entire area is full of beautiful houses that give away the age of the region. And to fill in the spaces between historic districts and homes, there are great places to eat and Hudson River valley views to enjoy. It's easy to fill a day there.
Hi there. Comments have been closed for this item. Still have something to say? Contact us.