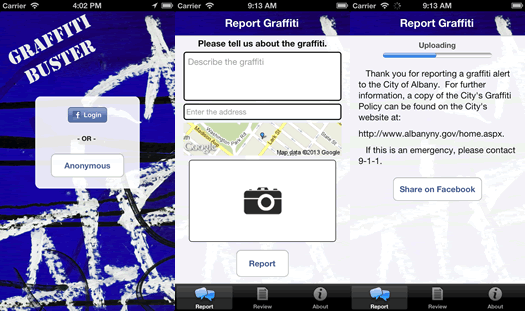 The city of Albany announced a new mobile app today: Graffiti Buster -- a way to report graffiti to the city. It's available for both the iPhone and Android.
The app is the creation of Troy Web Consulting's Tim Varney. You might remember Tim's name -- he also created the Albany: Then and Now history app, as well as the map of the vacant buildings in the city.
Tim explained to us how the app came about, and a little bit about how it works...
From an email exchange with Tim:
The idea was born out of the constant confusion that was present on the Hudson-Park listserv. There were repeated questions as to who you should report graffiti to in the city of Albany. We were brainstorming at work one day (Troy Web Consulting) and there happened to be a rash of tagging that week. The idea came up to create a streamlined process for dealing with it by leveraging the public's smartphones. Mark Poskanzer and I approached the city and told them what we wanted to do. They were very supportive from the beginning.
We put together the app and sent some volunteers out into the neighborhood with their phones to document graffiti. In the first night, they found 17 tags in the neighborhood of Center Square and reported them with the app. The reports go directly to the APD and [Department of General Services]. They receive the GPS coordinates, a user entered address or description, and a photograph of the tag for their files. That was about a week ago, and my walk through the neighborhood tonight revealed that most of them are already cleaned.
Tim says the plan is to see how the app's used, make improvements, and they maybe roll it out to other cities, as well.
It's good to see the city being open to new ways for people to file reports and provide feedback. We hope this is just a first step for the city. It'd be great to move toward an overarching system to collect all sorts or reports/complaints/suggestions -- and then have them tagged, tracked, and (the hope would be) resolved. Software developers use systems like that, as do companies for customer service. And some cities have built similar services -- NYC being a prime example.
Albany: Then and Now Tim also gave us an update on the Then and Now app -- which matches up historical photos with the physical place where the photographers stood to take the photos, allowing to compare the old with the new. Tim says they're working to expand the app, and presenting the app at an upcoming conference of state public historians.
Earlier on AOA: Troy Night Out app
Hi there. Comments have been closed for this item. Still have something to say? Contact us.