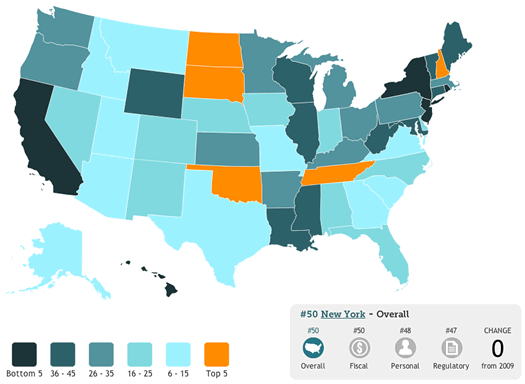 New York once again ranked as the least "free" state in the nation, in the Mercatus Center's new "Freedom in the 50 States" report (Mercatus is a "market-oriented" think tank at George Mason University). The Empire State was last in 2011. And 2007. And 2001.
New York is "by far the least free state in the Union," according to the report. The state gets dinged for, well, pretty much everything: taxes, spending, regulation. Among the rare positives identified by the report: "better than average" marijuana laws, low alcohol taxes, and eventually same-sex marriage (the report only covers policy to the end of 2010).
Oh, and NYS ranks #32 in the "bachelor party" category, which "combines a variety of laws including those on alcohol, marijuana, prostitution, and fireworks" (sadly, there's no indication the category covers laws regarding coke-snorting donkeys).
Freedom is, to some degree, in the eye of beholder. And here is how the Mercatus Center beholds it. Slate's Matthew Yglesias offers a rather different view, arguing that the concept of freedom needs to be salvaged "from the wreckage of Mercatus."
The top five states for freedom, according to Mercatus, are (from the top): North Dakota, South Dakota, Tennessee, New Hampshire, and Oklahoma. The least free (descending): Rhode Island, Hawaii, New Jersey, California, New York.
map: Mercatus Center
Hi there. Comments have been closed for this item. Still have something to say? Contact us.