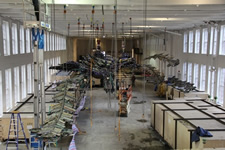 Over at the MASS MoCA blog there's an interesting backstory on how Xu Bing's massive Phoenix installation made the long journey from China to the museum. Here's a clip:
The boat ultimately arrived in Philadelphia. It docked there because the crates into which the phoenixes were packed do not conform to containerized standard dimensions. There are very few ports left in the country that can deal with non-containerized sea cargo. Those crates then had to clear customs. MASS MoCA employed a shipping broker to expedite that process. We also hired a trucking company based in New Jersey, which seemed to take its time making its way to MASS MoCA. (I put that as politely as I can.) When something like that--on top of shipping issues and even weather issues--is outside of your control, the frustration really builds up. Once we finally got the art here and started to wrangle with the various components, it was incredibly hard work and a challenge and a test, but that was welcomed after a protracted period of frustration.
The whole story includes a "slow" boat, the Panama Canal, trucks, cranes, huge crates squeezed through doors, chains, and instructions translated from Chinese.
photo: Jane Burns / MASS MoCA
Hi there. Comments have been closed for this item. Still have something to say? Contact us.