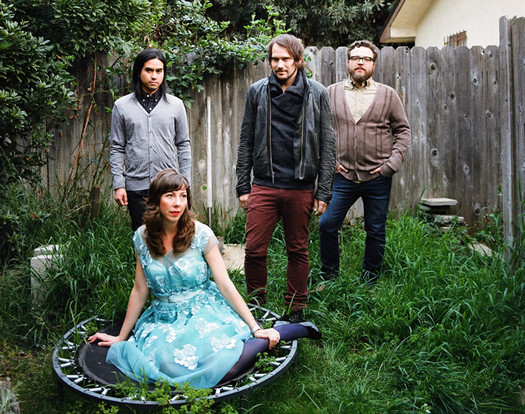 The schedule for this year's Tulip Festival is now out. The music headliner is Silversun Pickups. A quick scan version of the slate -- including the local stage -- is post jump, followed by the full festival schedule.
Tulip Fest is May 11 and 12 this year. The festival is still looking for volunteers -- if you'd like help, call (518) 434-5411 for info.
Main Stage
Washington Park parade grounds. Sponsored by EQX.
Saturday

1 pm: Royal Teeth
Indie pop.

2:30 pm: The Features
Indie rock from Tennessee.

4 pm: Silversun Pickups
Alt-rock.
Sunday
noon: zumba
1:30 pm: Grand Central Station
"Party music from every era."
3:30 pm: Bennie & The Jets
Elton John tribute act.
Local Stage
Washington Park lake house amphitheater. Sponsored by WEXT.
Saturday
noon: Tulip Queen coronation
1 pm: Tor & The Fjords
2:15 pm: Olivia Quillio
3:30 pm: Rick Rourke & Lost Wages
4:45 pm: Bryan Thomas
Sunday
noon: Mother of the Year award
1 pm: Annie & The Hedonists
2:15 pm: MaryLeigh Roohan & the Fauves
She'll be accompanied, but not technically by Fauves.
3:30 pm: Dylan Perrillo Orchestra
4:45 pm: Eastbound Jesus
___________
Full festival schedule
All descriptions from Tulip Fest organizers.
Friday, May 10
Carillon Concert • 11:30am - 12:00pm
Dr. Charles Semowich kicks off the 65th Annual Albany Tulip Festival with a special musical program on City Hall's historic 49-bell carillon.

Street Scrubbing • 12:00pm
State & Lodge Streets
The traditional Dutch practice of scrubbing the streets before a big event features a Mayoral Proclamation, the City of Albany Pipe Band, the Dutch Settlers Society, the 2013 Tulip Queen Finalists and the national anthem performed by Arielle King. Hosted by Joe Condon of B95.5 FM.

Tulip Festival Luncheon • 12:30pm
Hilton Albany (formerly Hotel Albany, 40 Lodge Street)
A farewell to 2012 Tulip Queen Emily Finnegan and her Court. Proceeds benefit the Albany Tulip Fund at the Community Foundation. Tickets are required; email tulipluncheon@gmail.com or call 518.275.6813 to purchase.


Saturday, May 11
Tulip Queen Coronation
Amphitheatre Stage at Washington Park Lakehouse

The Mendelssohn Club • 11:00am
The Mendelssohn Club performs a full, international range of male chorus literature.
Sweet Adelines • 11:30am
A diverse, award-winning female chorale ensemble based in the Capital Region.
Tulip Queen Procession • 11:45am
Begins at formal Tulip Beds by Moses Statue
2012 Tulip Queen Emily Finnegan, Mayor Jerry Jennings, the Dutch Settlers Society and the City of Albany Pipe Band lead the five 2013 Tulip Queen finalists to the amphitheatre stage.

Tulip Queen Coronation • noon
Amphitheatre Stage
Mayor Jennings crowns the 65th Annual Albany Tulip Queen in this traditional ceremony.

Royal Tulip Ball • 6:30pm
Kiernan Plaza (575 Broadway)
An elegant evening of dining and dancing to honor the new Tulip Queen and Court. Proceeds benefit the Albany Promise. Tickets are required; contact Capital Affairs at 518.388.9240 to purchase. Sponsored by ShopRite.
---

Tulip Festival Performance Schedule:
SATURDAY, MAY 11
Saturday Main Stage
Washington Park Parade Grounds
Sponsored by 102.7 WEQX

Royal Teeth • 1:00pm - 2:00pm
www.royalteethmusic.com
Sporting a sound that's not quite pop and not quite electronic, this six-piece New Orleans indie dance party is poised to take a big bite out of 2013. Their debut LP hits the streets later this year on Dangerbird Records, but the band has already been featured on "Last Call with Carson Daly" and landed their breakthrough single "Wild" on radio waves, car commercials and video game soundtracks.
The Features • 2:30pm - 3:30pm
www.thefeatures.com
This experimental, exhilarating Nashville band is known far and wide as one of the best live rock combos around. Since releasing their first EP a decade ago, The Features' style has developed into a combination of distinctive songcraft, vivid lyrics and sonic inventiveness. The band's new self-titled album, due May 14, finds The Features retaining their unshakable pop hooks while embracing a slew of previously untapped styles.
Silversun Pickups • 4:00pm - 5:30pm
www.silversunpickups.com
This Grammy-nominated, critically-praised Los Angeles quartet has established itself as a potent force in 21st century rock. Since emerging in 2005, Silversun Pickups have sold nearly 1 million records worldwide, with albums and singles topping the Billboard Alternative, Modern Rock and Independent charts. Their latest LP, Neck of the Woods, sees the band stretching the boundaries of their cinematic rock 'n' roll with confidence, invention, and undeniable ambition.
---

Saturday Local 518 Amp Stage
Washington Park Lakehouse Amphitheater
Sponsored by Exit 97.7
Tor & The Fjords • 1:00pm - 1:45pm
www.torandthefjords.com
Indie pop singer-songwriter (and librarian) Tor Loney plays heartfelt, distinctive and original music.

Olivia Quillio • 2:15pm - 3:00pm
www.oliviaquillio.com
Torchy, jazzy, soulful folk from a young singer-songwriter and multi-instrumentalist with a voice beyond her years.
Rick Rourke & Lost Wages • 3:30pm - 4:15pm
www.rickrourke.com
Raw, honest, rough and tumble roots music featuring some of the area's finest musicians.
Bryan Thomas • 4:45pm - 5:30pm
www.bryanthomas.com
A true Capital Region original, soul rocker Bryan Thomas is known for his electrifying performances and eclectic, intelligent songwriting.
___
SUNDAY, MAY 12
Sunday Main Stage
Washington Park Parade Grounds
Sponsored by Columbia Development Companies & Oldies 98.3
Zumba! with Instructor Corrine Bland • 12:00pm - 1:15pm
Zumba is a thrilling, Latin-inspired dance fitness workout. Millions of people worldwide are enjoying this joyful phenomenon to party themselves into better shape and overall health.

Grand Central Station • 1:30pm - 3:00pm
www.gcsband.com
A group of accomplished musicians with over 30 years experience, these Capital Region dance band favorites play party music from every era.
Bennie & The Jets : A Tribute to Elton John • 3:30pm-5:00pm
www.bennieandthejets.com
America's premier Elton John tribute band, Bennie & The Jets combine superb musicianship and amazing theatrics into a show you won't soon forget!
---
Sunday Local 518 Amp Stage
Washington Park Lakehouse Amphitheater
Sponsored by KISS 102.3 and 99.5 The River

15th Annual Mother of the Year Award • 12:00pm - 12:45pm
www.motheroftheyearalbany.com
Presented by St. Peter's Health Partners, Times Union & B95.5 FM.
The Capital Region's most outstanding moms are recognized as Mayor Jennings and Joe Condon of B95.5 crown the 15th Annual Mother of the Year.
Annie & The Hedonists • 1:00pm - 1:45pm
www.annieandthehedonists.com
Led by Annie Rosen's powerful vocals, the Hedonists cover an eclectic mix of acoustic blues, vintage jazz, folk roots and more.

MaryLeigh & The Fauves • 2:15pm - 3:00pm
www.maryleighmusic.com
Stunning folk-rock and alt-pop from talented young singer-songwriter-guitarist MaryLeigh Roohan and her all-star band.
The Dylan Perrillo Orchestra • 3:30pm - 4:15pm
www.facebook.com/dylanperrilloorchestra
Featuring a who's who of up-and-coming Capital Region musical talent, this colorful acoustic ensemble celebrates the beginnings of jazz.
Eastbound Jesus • 4:45pm - 5:30pm
www.eastboundjesus.com
This rapidly rising roots-rock ensemble specializes in high-energy Americana and their own signature brand of "northern rock". Bring your dancing shoes!


ALL WEEKEND
KidZone
Saturday & Sunday
Presented by Catseye & Price Chopper.
Media sponsor: Radio Disney AM 1460.
Featuring arts & crafts, pony rides, inflatables, balloon artists, facepainting, a rock climbing wall, the Price Chopper Hopper, the Siena Saints mobile experience and much more!

Price Chopper KidZone Stage
Airborne Jugglers • 12:00pm, 2:15pm, 4:30pm
www.airbornejugglers.com
This astounding, crowd-pleasing juggling team has traveled the globe entertaining audiences for over 20 years!
Radio Disney Road Show • 12:45pm, 3pm, 5:15pm
www.radio.disney.go.com
It's interactive fun for the whole family with the Radio Disney crew!
Melvin the Magnificent • 1:30pm, 3:45pm
www.magicmelvin.com
A hilarious, action-packed magic show featuring Melvin the Magnificent and his assistant, Hocus Pocus the Magic Bunny Rabbit.

GREEN MARKET
Near Willett & Madison Avenue entrance
Presented by by Solar City.
This green expo highlights sustainable goods, energy-efficient resources, recycling tips and more.

Go Green to the Festival!
Ride your bicycle to Tulip Fest and park at the bike racks, near Willett Street & Madison Avenue.

Or take the FREE CDTA shuttle! Buses run continuously to Washington Park from Eagle Street Garage (at Eagle & Madison Ave) & Elk Street Parking Lot (at Elk & Hawk Streets) from noon-6pm.
photo: Autumn Wilde