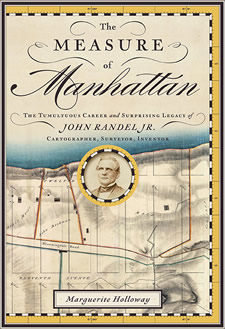 Sounds interesting: Marguerite Holloway, author of The Measure of Manhattan, will be at the State Museum Thursday evening as part of the NYS Writers Institute visiting writers series.
The Measure of Manhattan is a biography of John Randel, Jr, an Albany native who laid out the street grid for Manhattan. Blurbage:
Born and raised in Albany, renowned for his brilliance, Randel was also infamous in his own day for eccentricity, egotism, and a knack for making enemies. He was a significant pioneer of the art and science of surveying, as well as an engineer who created surveying devices, designed an early elevated subway, laid out a controversial alternative route for the Erie Canal, and sounded the Hudson River from Albany to New York City in order to make maps and aid navigation. One of the many delights of Holloway's book is that it also reveals, for modern readers, the original landscape of Manhattan in its natural state before it was "tamed" by Randel's grid.
Holloway is a science journalist and heads up the science and environmental journalism program at Columbia.
The talk starts at 8 pm on Thursday (April 11) in the State Museum's Clark Auditorium. It's free.
Hi there. Comments have been closed for this item. Still have something to say? Contact us.