The Albany school district says the teacher who assigned the Nazi writing prompt for a persuasive writing exercise has been put on leave while the district considers disciplinary action. Said superintendent Marguerite Vanden Wyngaard at a press conference: "You asked a child to support the notion that the Holocaust was justified, that's my struggle ... It's an illogical leap for a student to make." One of the three classes assigned the exercise refused to do it. [Daily Gazette] [TU] [WNYT]
Troy police say they're investigating a shooting early Saturday morning downtown (map) -- an SUV with people in it was hit multiple times. [Troy Record]
Local law enforcement agencies say a large recent upswing in demand for ammunition -- and the resulting surge in prices and shortage of supplies -- is straining budgets for training, and delaying shipments. [TU]
Proposal before the Saratoga Springs city council: installing surveillance cameras in the area of Caroline Street downtown. [Saratogian]
Demolition of St. Patrick's church in Watervliet started Saturday morning. [TU]

Chris Gibson says he's not running for governor next year. [TU]
The state Senate's Independent Democratic Conference -- which controls the chamber in a coalition with Republicans -- has proposed a campaign finance reform package that includes public financing of campaigns. [TU]
A man was killed Saturday morning when a large pipe fell on him at a construction site for a new natural gas line to serve the Luther Forest Technology Campus. [NYSP] [TU]
The Rensselaer County's Sheriff's Office says it does not suspect foul play in the case of a man found dead at the bottom of ravine in Schaghticoke Friday. [News10]
The investigation that resulted in last week's bust of what the feds say is an international and multi-state gambling ring -- that allegedly included two Albany County corrections officers -- started with Albany County Sheriff's Office investigators looking into a local gambling case, according to investigators "who asked not to be identified." [TU]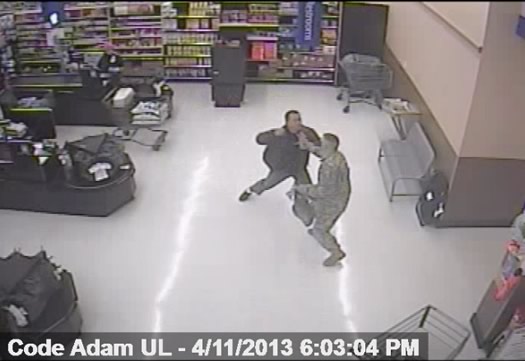 Albany police say a US Army captain was assaulted in the Washington Ave Ext Walmart Thursday -- the man arrested allegedly yelled "derogatory statements towards [the captain] about the United States of America and his service to the country." APD says part of the incident was captured on a store surveillance camera (a screengrab is above). [APD]
Troy police say a pedestrian was hit on Hoosick Street Saturday night. TPD says the woman was part of argument that ended up in the street. [News10] [WNYT]
An 80-year-old man drove his car through the front window of Felthousen's florist in Troy on Saturday. Troy's city engineer says the man had been observed "driving at a high rate of speed, driving somewhat erratically up Hoosick Street." [TU] [News10]
Saratoga Springs police say a fourth person has been arrested and charged as part of the alleged beating a man with blunt objects -- including a hammer -- last week. [Saratogian]
Two people from Ballston Spa have been accused of burglarizing a restaurant in Milton seven times since February. [Saratogian]
Siena basketball player Rakeem Brookins has been arrested and charged with burglary and grand larceny, Colonie police report. CPD says campus security found a wallet belonging to another student in Brookins' on-campus apartment bedroom, and Colonie officers found the student's credit card in Brookins' pocket. Said Siena's new head basketball coach, Jimmy Patsos: "I'm extremely disappointed and we will let the legal process play out." [CPD] [TU]
Where not to pee on the sidewalk: outside the Saratoga Springs police station. [News10]
Lots of different opinions on whether it was OK for a Schenectady County prosecutor to use the n-word during a recent closing statement. [TU]
The city of Troy has yet to pay for damages from when a city truck hit a parked car -- almost 19 months ago. [TU]
An Albany city judge has refused to dismiss charges against four Occupy protestors arrested during a march last summer -- despite the Albany County DA's office refusal to prosecute. [TU]
The plan to turn a former Grand Union supermarket in Rotterdam into a public safety building has been put on hold, prompting frustration from business owners in the immediate area. [TU]
The state Joint Commission on Public Ethics has ruled that it's OK for Sandra Lee to accompany Andrew Cuomo on state airplane flights without re-imbursement. (The same goes for minors who are friends of the governor's daughters.) [JCOPE] [TU]
Troy's Flag Day parade is again in doubt because of funding. [Troy Record]
The expense of switching over to digital projection will increase ticket prices at the Malta Drive-In by $1 this summer. (Theaters are switching because movies will eventually -- maybe very soon -- only be distributed in digital.) [Daily Gazette]
Lawrence Peck -- a well-known dairy farmer in Saratoga County -- died Friday morning in a vehicle collision. State Police say the crash is being investigated. [Saratogian] [NYSP]
The Sage Colleges held an on-campus memorial service for Dawn Hochsprung Sunday. Hochsprung was the principal at Sandy Hook Elementary, and was part of a doctoral program at the Sage Colleges. [Troy Record]
____
APD: Assault of U.S. Army Captain
Albany police arrested a 47 year old Schenectady resident for assaulting a member of the U.S. Armed Forces while inside of a local department store.
On April 11, 2013 at approximately 6:00 p.m., officers responded to Wal-Mart, located at 141 Washington Avenue Extension, for a report of fight. Upon arrival, the victim, a 43 year old United States Army Captain, stated he was assaulted by another man near the stores register. The victim, who was donning his United States Army uniform, told officers that a man standing directly behind him in line began to yell derogatory statements towards him about the United States of America and his service to the country . The suspect then struck the Army Captain several times in the face.
The victim sustained bruising to his face and a laceration over his eye. He was treated at the scene by Albany Fire Department personnel.
The suspect, Yiqiang Wu, 47, of Schenectady, was arrested at the scene.
Wu was charged with Assault 3rd as a hate crime.
He was arraigned this morning in the Albany City Criminal Court.
CPD: Siena Burglary Arrest
On 04-06-13 at 5:39pm, the Colonie Police Department was called to investigate a burglary at Siena College Cushing Townhouse 110, 515 Loudon Road. The victim reported that sometime between 04-05-13 and 04-06-13 an unknown person had entered the townhouse and stolen the victim's wallet. The wallet contained a debit card and the personal identification of the victim. The investigation was on-going by Colonie Police Investigators when we were called by Siena College Public Safety Officials on 04-12-13 stating that they had recovered the victim's stolen wallet in Siena College Cushing Townhouse 139.
Patrol Officers responded and had the occupants of Townhouse 139 come to the Police Station for further investigation and interviews. Siena College Public Safety Officer's located the stolen wallet in the below profiled defendant's bedroom and responding Colonie Patrol Officers further located the victim's stolen Debit Card and stolen Subway card in the defendant's pocket.
As a result of the investigation the defendant was charged and arraigned in Colonie Justice Court on 04-12-13 and remanded to the Albany County Correctional Facility in lieu of bail. The defendant has since posted bail and is scheduled to next appear in Colonie Justice Court on 04-15-13 at 6:00pm.
Defendant:
Rakeem J. Brookins - age 21
100 Old York Road
Jenkintown, Pa.
Charges: Burglary 2nd and Grand Larceny 4th (both felonies)
Say Something!
We'd really like you to take part in the conversation here at All Over Albany. But we do have a few rules here. Don't worry, they're easy. The first: be kind. The second: treat everyone else with the same respect you'd like to see in return. Cool? Great, post away. Comments are moderated so it might take a little while for your comment to show up. Thanks for being patient.