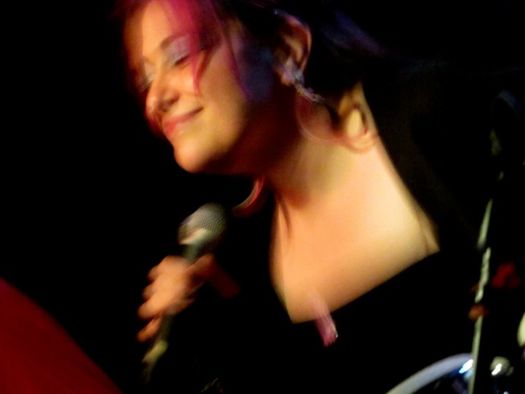 Each week with My Exit our friends at WEXT give us a chance to check out what's on the playlists of people in the Capital Region.
This week, Nicole is keeping it local...
Who?
I'm Nicole K -- originally from the Island of Long but successfully transplanted to Albany after college in the frozen tundra (Potsdam). I teach English during the day. Besides that, I sing and play with a band called Hot Cousin and make sock monkeys. They are pretty funny looking (the sock monkeys, not the band - the band is awesome looking). I also have a dog named Davidleeroth. He is awesome looking too.
How would you describe your taste in music?
Just so you know, I suck at answering the "what kind of music do you like" question. I start to think of all the kinds of music that I like and music that I don't even know about and genres and I get super overwhelmed because I am afraid I am going to miss something. What if I say alternative but forget to say grunge? Do I like alt-country-techno? Is humming a genre? What if people don't know I own the Yes boxed set AND the album from the guy that used to be Steve on Blue's Clues (Steve Burns)? What if they don't knnnooowwwww? So -- music is my favorite kind of music. Music that I like. The stuff I don't like is in that pile of stuff that I don't like. And you know what kind of music is SUPER great? LIVE MUSIC! Almost all the time! So get out and see some!
A few songs from Nicole's My Exit:
"Blast the Message" - Super 400*
I ask often ask myself why they haven't won a Grammy yet. They are perfect at what they do. Perfect.
"The 18" - Charmboy*
Charmboy has teeth -- no... they have FANGS. Think soulful rock. Amazing talent in our backyard. A power trio that make beautiful noise together.

"Should've California" - Two Cow Garage*
Two Cow is from Ohio but they do play locally here. Get some stuff online. Seeing them play in front of you -- it's nothing you can recreate. They dig deep.
"Highway to Hell" - AC/DC
Come on. This just rocks.
"True Love Waits" - Radiohead
This song makes me totally sad. If a song can do that to you, it has done something right.
The three with stars play locally. Go see them when you can.
Maybe I will see you at a Hot Cousin show soon. Come and introduce yourself!
You can hear Nicole's My Exit show Monday night at 11 pm on 97.7, Saturday at 8 am, or at exit977.org.
Here's how to schedule your own My Exit show on WEXT.