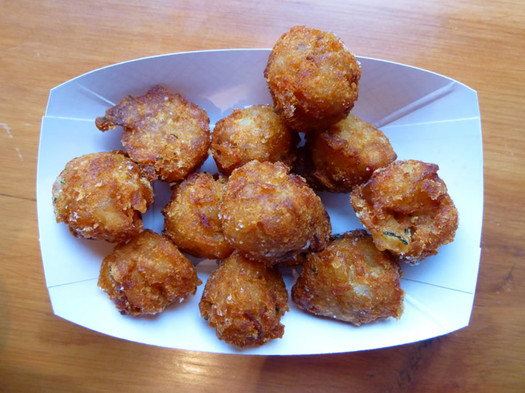 By Daniel B.
What brings you comfort?
Even when it comes to food, the answer will be different for everyone. For some it will be a taste of home. Others will long for a taste of childhood. The answer could be situational, and refer back to some restorative dish eaten after a traumatic experience.
These foods aren't necessarily exciting. But dishes like biscuits with sausage gravy, fluffy scrambled eggs cooked in bacon fat, and mashed potatoes with gravy share a common heritage. They are all simple enough to be made, more or less from scratch, by the home cook.
So what could be more antithetical to unprocessed homemade food than the beloved tater tot? After all, its original purpose was to help Ore-Ida use waste created from the mass production of frozen french fries. How unlikely that this would turn into the comfort food of today. But there is a sea change surrounding the tater tot around this country. It's being taken back by talented chefs.
Now let me tell you why Comfort Kitchen in Saratoga deserves a top spot among their ranks.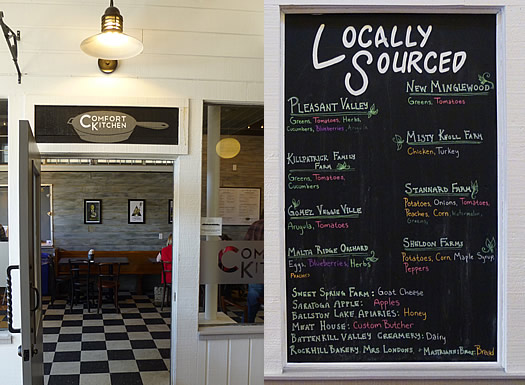 Tots are hot. Over a half century since their invention and just about a decade since Napoleon Dynamite, these grated fried-potato nuggets are showing up in some rather unexpected places.
Just last week a food website, The Daily Meal, identified what they thought were "America's Top Tater Tots." They group ranges from well prepared versions of the original frozen Ore-Ida product to high dining versions conceived of by Alina's Grant Achatz for his cocktail bar, The Aviary.
Too many of these offerings miss the point. Some take the tot and use it strategically in a dish, often as a topping, providing a brown crown of glory for the food below. Others consider the tot a substrate -- a blank canvass -- for them to hurl a cacophony of delicious toppings upon. However, the most misguided try to imbue the tots themselves with the scourge of truffle oil or other "gourmet" touches.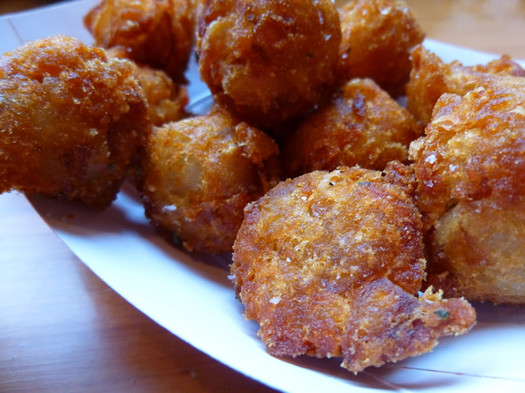 One look at the Comfort Kitchen tots and it's clear they have respect for the form. You get a red-and-white-checked boat full of housemade, deeply browned potato nuggets. There are no shavings of parmesan cheese, no sprinkling of chives, and no decorative parsley. What you will see is a smattering of large salt crystals clinging to the surprisingly greaseless exterior.
You may happen to see the faintest hint of something green, though.
It's rosemary, and it's amazing. I'm tempted to say it's even exciting. Because with great restraint, Comfort Kitchen has been able to elevate the tater tot while keeping it true to its roots. It's a crispy bite of potatoes that's so soft on the inside that chewing is almost an afterthought. And sure, they are great on their own. But the Comfort Kitchen tots are even better dipped in their "Awesome Sauce," a creamy concoction that's tart, sweet, and packs a little bit of heat.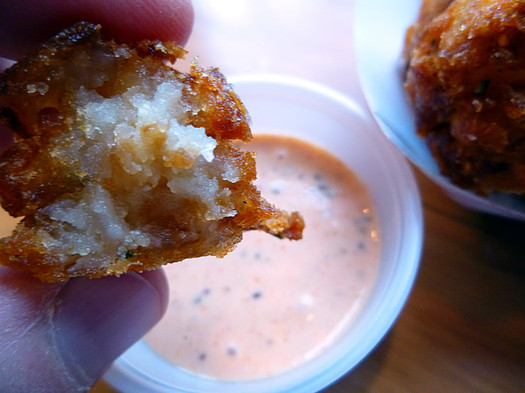 Plus, like everything else at Comfort Kitchen, these are made from local ingredients. The restaurant gets its potatoes from Stannard Farm in Cambridge and Sheldon Farm in Salem.
Comfort Kitchen's happy hour on Saturday now starts at 3 pm. And then you can get two Genny Cream Ales for $3 to wash down your $3 side of tots. I can't think of much that would make me happier and be more comforting at the same time.
Daniel B. is the proprietor of the FUSSYlittleBLOG.
Find It
Comfort Kitchen
454 Broadway
Saratoga Springs, NY 12866
Comfort Kitchen is on the bottom floor of the Saratoga Marketplace.
Hi there. Comments have been closed for this item. Still have something to say? Contact us.