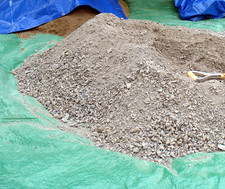 Mike emails:
Can you ask your readers where is a good place to find good top soil in the Troy, NY area.
You can get stuff like top soil, mulch, and gravel from a garden center or one of the big hardware stores, but you're usually going to be buying it by the bag. If you have a bigger project, often the best way is to have it delivered to your house -- it can be both cheaper and easier. The truck comes to you and dumps the dirt/mulch/gravel in a a big pile.
So, we'll extend Mike's question a little bit to include mulch, gravel, sand, rock, all that sort of stuff. Suggestions for either garden centers or delivery? Please share. Bonus points if you can provide details about price or ease of setting up delivery.
Hi there. Comments have been closed for this item. Still have something to say? Contact us.