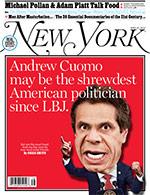 We finally got around to reading "The Albany Machiavelli," the long profile of Andrew Cuomo by Chris Smith in this week's NY Mag. Smith remarks that "Cuomo may be this country's best politician--in the interest-swapping, nut-­cutting, backroom sense--since Lyndon Baines Johnson." And there are a bunch of interesting back room bits about Cuomo's handling of issues, his relationship with the legislature, how fracking vexes the Cuomo political calculations, the potential role of Hillary Clinton in blocking in his presidential ambitions.
This section resonated with us:
So far that experiment has been a solid success, especially for Cuomo. He's been more fiscally responsible than many of his predecessors. He's boldly and forcefully delivered on progressive ideals, legalizing gay marriage and passing some of the toughest gun laws in the nation. He's been rewarded with high public-approval numbers in New York and heightened national stature. Yet there's also a cost, and a considerable irony, to Cuomo's tactics. For all his speechifying about the "us" of government, he runs a government of one, controlling decisions large and small. And the way Cuomo wins his battles--strong-­arming and horse-trading; a mastery of talking past inconvenient questions and facts--tends to antagonize enemies and allies, as in the most recent round of budget wrangling, in which he managed to chafe both liberals and business fat cats. People are afraid of him; David Paterson, as governor, once described feeling like Cuomo was lurking under the floorboards of the executive mansion, holding a saw. In politics, fear can be a highly useful tool, but it is a risky one. The governor doesn't have many friends. ...
As Cuomo looks to score a wide reelection margin in 2014, he has become New York's most successful governor since, well, the early days of Mario Cuomo. Yet he's engendered much more fear than love--an emotion the governor believes is overrated, in politics anyway. The growing turbulence will show whether he's right about the value of affection in Albany--and whether Andrew Cuomo will loom larger in history than his father.
Now a little arm chair political science: We get the sense that everyone respects Andrew Cuomo, even his enemies and detractors (maybe especially his enemies and detractors). But do people like him? You know, in talking with people it's like there's this acknowledgement that Cuomo has imposed a certain order on state politics, and the situation is no longer the embarrassing train wreck it had been. It's just that there isn't much (if any) love or passion for him. And that's a problem if you're running for president -- because as much as issues and all that stuff matter, there's also an emotional part of it for voters.
Anyway. This (here, totally stripped of its context) quote-- "They have needs, and you have needs. And your appetite has to be calibrated thusly." -- kind of us made us a feel a little bit for Sandra Lee.
Say Something!
We'd really like you to take part in the conversation here at All Over Albany. But we do have a few rules here. Don't worry, they're easy. The first: be kind. The second: treat everyone else with the same respect you'd like to see in return. Cool? Great, post away. Comments are moderated so it might take a little while for your comment to show up. Thanks for being patient.