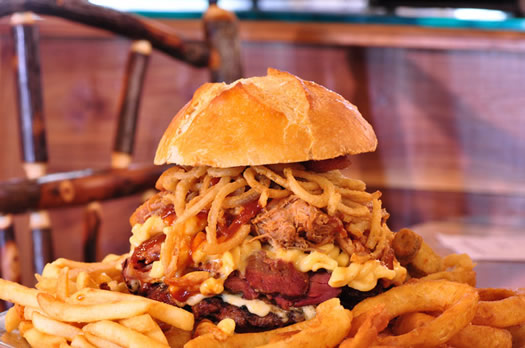 By Casey Normile
Do you ever get to the end of a meal and think, "I should be rewarded for how much I ate just now?"
Well, finally, your hard work and determination can be recognized. There are plenty of food challenges in the area where those with a hearty appetite and a willing spirit can pit their powers of digestion against an impossible amount of food.

Grab a fork...

Isle of Man Irish Breakfast Challenge - Dorothy O'Day's Irish Pub
22 Clifton Country Rd # 39, Clifton Park, NY 12065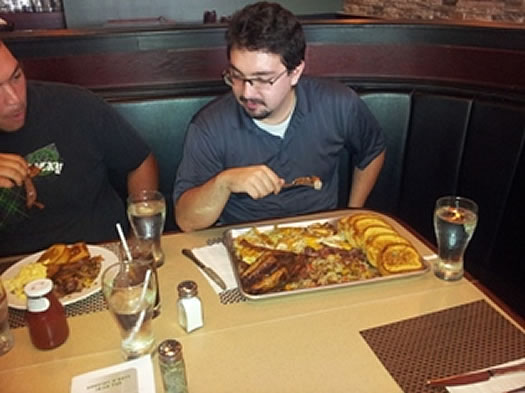 Ingredients:
A mountain of corn beef hash
6 Irish bangers (sausages)
A half-pound of bacon
Home fries
A side of Texas toast
13 eggs cooked any way you like
Time: 30 minutes
Cost: $35
Prize: Breakfast is on the house, a free t-shirt and their picture on the Wall of Fame
Number of champions: 3
The challenge was the brainchild of the owner and the executive chef who didn't want to do the same old wing challenge that most places do. And while most guests cheer the challengers on, they also don't want to get too close for fear of, well, something coming back up. The most memorable challenger was the guy who tried to wash down the Breakfast Challenge with alcohol.
26-Inch Colossal Pizza Challenge - Cusato's Pizzeria & Deli
1600 Altamont Ave, Schenectady, NY 12303
Ingredients:
3 pounds of dough
2 pounds of cheese
1 pound of tomato sauce
Ten slices of pizza about 12 in. long and 7 in. wide at the crust
Time: 1 hour
Cost: $22.50
Prize: the pizza is free, a gift certificate to the store and a second Colossal on the house.
Number of champions: Only 4 people in about 3 and half years
Store manager Paolo Citone said, "We've had people of all shapes and sizes try it, but the only people who have been able to do it were small scrawny kids. The demographic is like 18 year-old guys weighing in at about 120 pounds."
The Graveyard Burger - Wagon Train BBQ
671 Mariaville Rd, Schenectady, NY 12306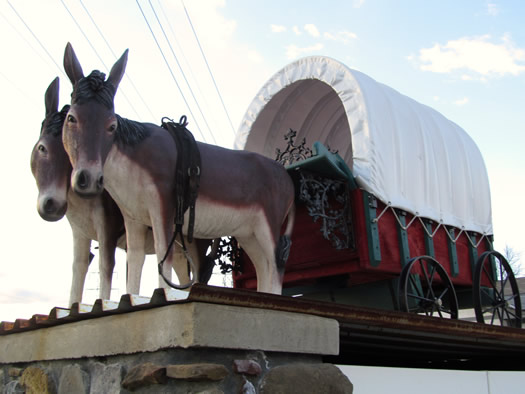 What might be needed to take you away if you complete the Graveyard Challenge.
Ingredients:
1 pound black angus beef patty
4 slices of cheese
2 fried eggs
6 slices of bacon
8 oz. of pulled pork
8 oz. of beef brisket
8 oz. of cole slaw
8 oz. of mac and cheese
Onion tanglers
Jalapeno peppers
1 pound of onion rings and french fries
All on a "genormous" fresh baked roll
Time: 30 minutes
Cost: $34.95
Prize: A free t-shirt, a reserved front parking spot for 30 days and your burger is free.
Number of champions: 0
The Fatboy Challenge - Daurizio's Pizza
2315 Curry Rd, Schenectady, NY 12303
Ingredients:
1 Fat Boy pizza with 2 meat toppings
20 Fat Boy wings
I order garlic knots
1 order cinnamon knots
2 liters of soda
Time: 2 people have 1 hour or less
Cost: $100
Prize: $500, Fat Boy t-shirts and their picture on the Wall of Fame
Number of champions: 0
About 10 teams have tried so far and the closest were "Munchin" Mike Longo and Joel "The Cannon" Podesky who have done food challenges up and down the coast. They still had 2 slices of pizza left and about 6 garlic knots left.
Colossal Pancake Challenge - The Ugly Rooster
159 N Main St, Mechanicville, NY 12118

Ingredients:
2 12-inch pancakes
1 pound of fruit (your choice of filling)
Big scoops of butter and whipped cream
Time: 20 minutes
Cost: $15
Prize: the meal is free, free t-shirt, your picture on the Wall of Fame
Number of champions: Only one person has completed it. (Over 158 have tried.)
Beat the Record - Famous Lunch
111 Congress St, Troy, NY 12180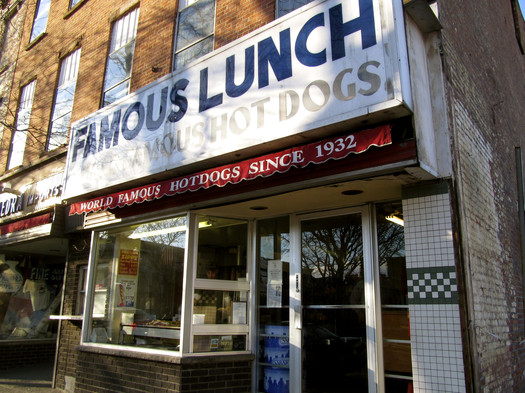 Ingredients: As many mini hot dogs with the works that you can eat.
Number to beat:
For an individual, 39 hot dogs in 30 minutes (Scott Lovelace, 2011)
For a group, 810 hot dogs by 38 people (RSE Fraternity, 2002)
Time: 30 minutes
Cost: If you beat the record, your dogs are free. If not, you're paying for as many as you ate.
Prize: A free Famous Lunch t-shirt with your name and record on it and you get your name on the menu
"We've got a lot of big talkers and not a lot of action," said employee Shaun Cronin. "Most people slow down at around 20. A buddy of mine tried it and got to 35 hot dogs in about 15 minutes. But then he got cocky and started doing sit ups. But then he had to take a trip to the bathroom... let's just say he lost."
The Burning Human Challenge - Basil City
2304 Hutton St, Troy, NY 12180
Ingredients:
10 Burning Human Wings (sauce is made with ghost pepper extract)
No dipping sauces allowed
No drinks allowed
Time: 3 minutes or less
Cost: $7.99
Prize: your meal is free and you get your photo on their Wall of Fame (but...if you lose, your picture goes on their Wall of Shame and they doodle on your face)
Number of champions: 23
____
Graveyard challenge photo: Jay Travis | Ugly Rooster photos courtesy of the Ugly Rooster | Dorothy O'Day's photos courtesy of Dorothy O'Day's
Hi there. Comments have been closed for this item. Still have something to say? Contact us.