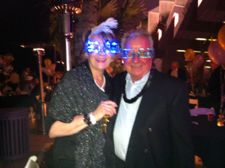 Each week with My Exit our friends at WEXT give us a chance to check out what's on the playlists of people in the Capital Region.
This week, Karen and Ed take us back...
Who?
We're Ed Hryhor and Karen Wojcik-Hess. Ed is a retired advertising representative from Portland. Maine. He met Karen on the internet in 2005 and moved to New York to live with her in 2007. His post-retirement job is a pharmacy-tech with CVS. Karen was a elementary educator for 29 years and retired in 2002. Her post-retirement career has been in real estate for the past decade now with Prudential Manor Homes.
Ed & Karen's taste in music:

Ed likes a lot of different kinds of music. He enjoys songs from the 60s and 70s and some country. He also likes artists like Michael Buble and Adele. Karen was a doo wop fan and enjoys the music she danced to as a teen in Brooklyn. She was a country fan for a while and also enjoys opera and classical music.
A few songs from Ed and Karen's My Exit show:

"A Gift of Forgiveness" performed by Jon Michaels on his Stones album.
This album was recorded LIVE from the Douglas Corner Café in Nashville. The words drew Karen to recognize a talented songwriter while at a songwriters workshop at the Country Music Hall of Fame.

"The 59th Street Bridge Song" by Simon & Garfunkel
A longtime favorite of Ed's. It's pure 60s. Feeling groovy!

"One Kiss" by Paul Anka /a> & Tevin Campbell
From the Body of Work album. A song of special meaning for us when we first met in Keene, New Hampshire in 2005.

"If I were You" by Colin Raye
The message is strong -- "live life for all it's worth, leave your mark upon this earth, trust your heart to show you everything you'll need, and if I were you, I'd fall in love with me."

"You Never Know" by Jon Michaels
Every day we experience and recognize it especially as we age, especially this week. "Life is indeed a mystery, left up to fate, left up to chance. You just never know.
You can hear Karen &Ed's My Exit show Monday night at 11 pm on 97.7, Saturday at 8 am, or at exit977.org.
Here's how to schedule your own My Exit show on WEXT.