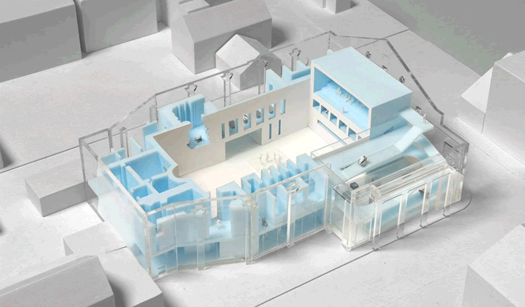 There's now a better look at the planned Marina Abramović Institute in Hudson -- a facility for "long-duration performance art" -- thanks to a new website for the project. The eponymous artist is well-known for this sort of this work, most famously for The Artist is Present at MoMA. And the Hudson facility -- which is being designed by an architectural team that includes Rem Koolhaas -- looks ambitious. In a video posted today, Abramović says she hopes it might "change the consciousness of our society today."
The website includes a bunch of renderings and information about the mission of the institute and other long-duration work. But the part that will probably bake your noodle is the presentation on the various aspects of the experience the institute intends to create. Among the parts:
+ A "contract" in which people pledge to spend at least six hours at the institute.
+ Visitors will be asked to leave behind watches, telephones, computers, and cameras -- they'll then be outfitted with lab coats and noise canceling headphones.
+ There will be various chambers: for drinking water, eye gazing, and so on.
+ A "blood bank" aiming to collect "250 drops of blood from the most influential scientists, artists, spiritual leaders, writers, philosophers, and musicians and to preserve a bank of these drops inside MAI."
+ Sleeping cocoons for people fall asleep during performances.
It all has the feeling of something from science fiction.
MAI is a $15 million project, according to its website. It's aiming to open in 2014.
[via @HudsonMusicFest]
image: OMA
Hi there. Comments have been closed for this item. Still have something to say? Contact us.