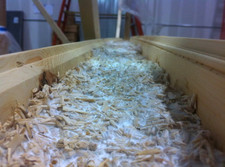 In progress at Ecovative, the Green Island-based startup that creates packaging and insulation from mushrooms: a small house that's growing its own walls. Blurbage:
We spent 5 years focused on protective packaging. Today it's a huge success, being used to package everything from servers to surf boards. Now we're looking ahead to what's next, and it may be time to return to our roots and dive back into building materials.
This project is a bold experiment to build and grow a house with Mushroom Insulation. We could have started by just building a simple wall assembly and subjecting it to lab tests. And we'll surely be doing that soon. But we thought that starting by building a whole tiny house would lead to more learning (possibly through failure) faster than anything else we could do. Also, we all just think tiny houses are really cool.
Basically, they've built a frame and are letting the mycelium (sort of like mushroom roots) fill in the gaps by bonding together agricultural waste. It's pitched as a environmentally friendly alternative to polystyrene insulation.
The company's set up a site with frequent updates tracking the construction and progress.
photo: Ecovative Design
Hi there. Comments have been closed for this item. Still have something to say? Contact us.