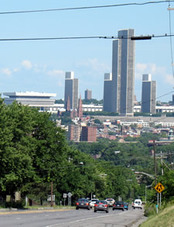 Samantha messages:
Hi, I've only lived in the Albany area for a couple of years, so I'm not too familiar as to what screams "Albany"! But I need to know!
See, my husband (retired Army), myself and our daughter were based out of Ft. Hood TX, back in '07. While there, my husband and many others deployed. I was fortunate to have a small support group of other medic wives. Among them was a girl named Jay. Jay has a son named Max who is about the same age as my daughter (they were 3 back then). We spent 15 months supporting each other while our husbands were gone. Really she supported me, she was, and definitely is the strongest woman I've ever known.
This is why she is so strong.
It is also why I need to know what amazing Albany swag consists of?
Any suggestion would be greatly appreciated!
Here's the short story from that link: Samantha's friend's son, Max, has a brain tumor. He'd like to visit France, but as you might understand, that's difficult considering the circumstances. So friends of the family are trying to bring Max the world via mail -- postcards and other items.
So Samantha's looking for some fun and very-Albany items she could send Max.
Got a suggestion? Please share!
Hi there. Comments have been closed for this item. Still have something to say? Contact us.