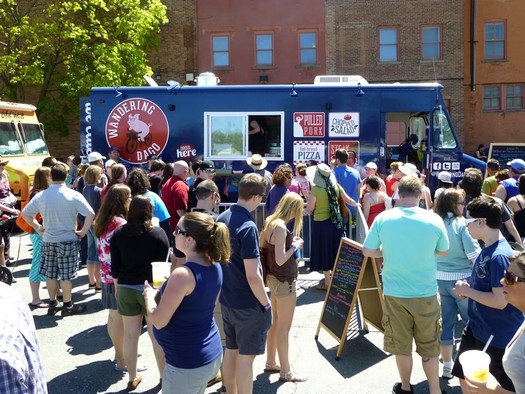 By Daniel B.
Saturday was the first Food Truck Festival of NY in Troy, but it was not the first food truck festival ever.
These things happen all over the place all the time, and they come in many shapes and forms. Occasionally, like Tulip Fest, they aren't exclusively food events, but simply have a food component. Other times the festivals may not be focused on trucks but rather a specific ingredient... like bacon.
Events like these can be amazing or they can be agonizing. Sometimes the difference between the two is as simple as having a strategy.
Unless there is a VIP tent that provides table service for an additional fee, lines are always going to be long, and they are usually going to move slowly. The very best way to deal with the lines is through a coordinated group effort. But regardless of whether you are going at it with a team or on your own, preparation is critical.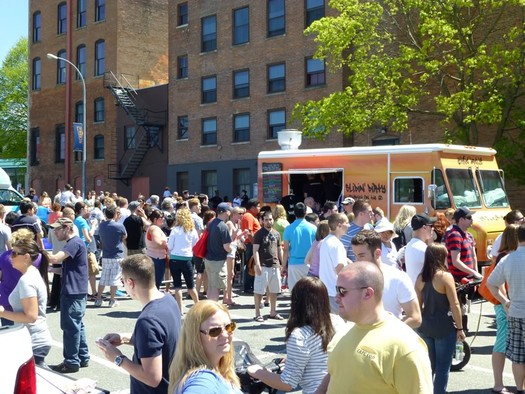 Do your homework
There is some groundwork you can do in advance of the event. Go online and learn about which vendors will be in attendance. You can generally get a good enough sense of the operators to do some early triage. Some places won't be appealing at all, some will be appealing but are regular sights around the region, while others will be appealing yet hard to try beyond the context of the festival.
It will be the hometown favorites with local name recognition and a positive reputation that will have the longest lines. But the savvy attendee will be adventurous, as this is an opportunity to try something new.
Show up early
By early, I mean before the event officially starts. Sure, they may not be ready to sell you food, but it gives you a chance to check out all the menus from your short list of prospects to see which places are making dishes that you simply must try. And if there is one dish that stands out above all others, for God's sake, make sure to get that first. On Saturday at the festival in Troy, the pork cheeks at ate.o.ate sold out in well under an hour.

Reuben fritters from ate.o.ate.
If you play your cards right, you could get through two lines in the time that it would take you to get through one -- even half an hour after the event officially begins.
The sun is your enemy
It's going to be crowded. You're going to be hot. Most likely you will get dirty. Dress appropriately. Wear sunscreen. Have a nice cool hat. And drink plenty of water.
Divide and conquer
Instead of standing in six lines, bring five friends (or whatever number) and each of you will stand in just one line each. The trick here is making sure that everyone know they are buying for six hungry people. Two sliders aren't going to cut it. Yes, you may end up spending $50 at a food truck. And yes, it may feel very wrong. But when you meet up with your friends (who also spent $50 at a food truck) you will have a smorgasbord of delights.
If that fails, I would suggest finding new friends who are better at this game.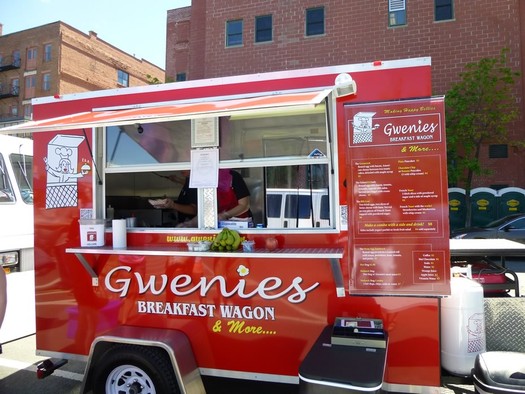 Let your instincts guide you
If you are on your own, as I was on Saturday, sometimes you have to yield to fate and let the short line and your instincts guide your path. That led me to Gwenie's Breakfast Wagon for a deliciously greasy pesto, egg, ham and cheese sandwich. And then to ate.o.ate where I could not say no to the reuben fritters. These orbs of corned beef, sauerkraut and swiss cheese, were breaded and deep fried, slathered in Russian dressing and served with a pickle. Holy cow, those were good.
Sadly by the time I made it to How We Roll, the truck that puts high quality comfort food in a deep fried egg roll, they were sold out of everything. But that's how these things go. Not just in the Capital Region, but everywhere. Trucks can only hold so much food, and people have a seemingly unending appetite for good food on wheels.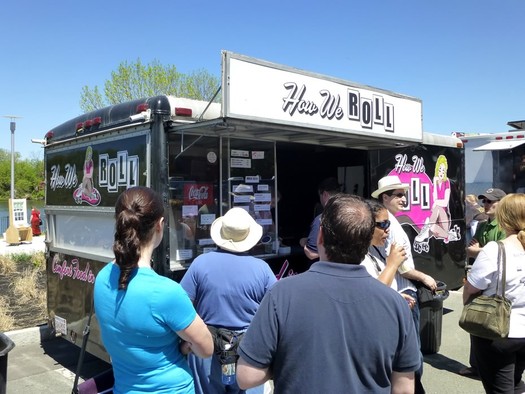 Know when to fold 'em
Always leave wanting more. There is little worse than a good time ruined by one last tedious line. Especially if it's the kind that ends in disappointment should a truck run out of the item for which you had been waiting. Or even if you get that one last morsel, it could be the thing that pushes you over the brink from being pleasantly sated to uncomfortably full.
____
Overall, I thought the event this past weekend was fantastic. It was great to see so many people out in the park enjoying the day and proving that there is a strong market for good food from trucks.
I had really wanted to try the avocado fries at Slidin' Dirty and their new rolls supplied by All Good Bakers. But now I'll have to make a special trip to visit them when they are around town. As far as How We Roll goes, I'm hoping the early sell out in Troy will encourage them to make the trip back to New York from Western Mass sometime soon.
When they do, they'll likely be my first stop. Unless ate.o.ate is back from Roxbury as well. Because there's some talent happening in that truck, too.
Daniel B. is the proprietor of the FUSSYlittleBLOG.
Hi there. Comments have been closed for this item. Still have something to say? Contact us.