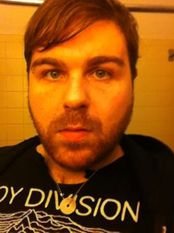 Each week with My Exit our friends at WEXT give us a chance to check out what's on the playlists of people in the Capital Region.
Today, Hans is back with a show that takes us from Culture Club to Candi Staton..
Who?
I'm Hans Christopher. I think too much. I'm the standard-bearer for Italo disco and 80s funk amongst my friends and acquaintances. At this very moment I'm working on music for a new album due this summer, which sounds exactly like the music I used to do. I also do a podcast with my friend Andrew named Overnight Drive, as well as a very, very small art and culture site named You Look Sad. If you enjoy dancing and weird 80s music, hard reggae and passionate soul, check out BREAKOUT at Valentine's this Saturday, May 11! Whew, busy. I can also be seen doing Andy Kaufman routines and being "that dude" at dance parties, dancing like EVERYONE is watching. Oops.
How would you describe your taste in music?
Having worked at Last Vestige music shop for 10 years, and having lived across the country and around the world, my tastes in music are far-reaching and far-ranging. Having interests is neat.
A few songs from Hans' My Exit show:
Cameo -- "Attack Me With Your Love"
This is the quintessential 80s funk track, brought to you by the insanely underrated Cameo. Try to get this song out of your head -- you can't. I have a grandiose dream of owning a Mercedes convertible and a pair of Ray-Bans, driving around really slow and blasting this song on repeat. I think it's important to have dreams, ok?
Gregory Isaacs -- "Private Secretary"
I included the live version of this song, just to show how incredibly cool Gregory "The Cool Ruler" Isaacs was. He's easily the greatest reggae singer of all time, bar none. He's also the best dressed and his voice melts hearts slowly, deliberately. He died in London a few years back, no doubt in the happy-yet-troubled haze in which he lived his life. R.I.P.
Culture Club -- "Miss Me Blind"
Nothing on earth would be complete without this song. Love, loss and yearning wrapped tightly like a spring roll. Boy George sings in a way that makes me feel weepy and emotional, only because I believe we share pain and distance over loves lost quickly. He was easily the best New Wave crooner (sorry, Spandau Ballet), offering cruel asides in wistful lines that disarm and disrobe. Recently, Boy George lost weight on a vegan diet. Go him, I guess.
Frankie Knuckles featuring Jamie Principle -- "It's a Cold World"
I discovered this song criminally recently, which actually makes me quite sad. This is a song that, I'm sure of it, would have helped me through some weird times in my life. Last year I drove to Montreal and back, listening to solely this song, not getting sick of it or the drive at all. This is enduro music. Frankie Knuckles is considered the "Godfather of House Music," but I only really like this one song. Ooops.

Candi Staton featuring The Source -- "You Got The Love"
You may recognize this song. Florence & The Machine did a lousy cover of it a few years ago, but this version dunks on Flo all day long. Another banger for driving -- let Candi's seasoned, lovely voice envelop and cure whatever it is that ails that baby soul of yours. Music heals, and this is the real damn deal. Lots of religious imagery here -- "When food is gone, you are my daily meal" -- referencing Catholicism, but if someone considered me their "daily meal", I wouldn't mind at all. Enjoy music.
You can hear Hans' My Exit show Monday night at 11 pm on 97.7, Saturday at 8 am, or at exit977.org.
Here's how to schedule your own My Exit show on WEXT.
Hi there. Comments have been closed for this item. Still have something to say? Contact us.