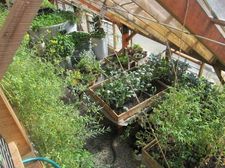 Coming up at the Radix Center in Albany: Regenerative Urban Sustainability Training (RUST), June 1-2. The workshop is focused on "skills for building ecologically resilient communities in today's cities." Blurbage:
In this class, Scott Kellogg and other sustainability experts give attendees a "toolbox" of techniques and knowledge usable by anyone wanting to create sustainable systems in their own communities. Through a combination of group hands-on activities and lectures, participants will learn how to build infrastructure for self-reliance that is simple, affordable, and replicable. These systems can be applied in either urban or rural environments.
The topics range from aquaponics to beekeeping to vertical farming to vegetable oil vehicles.
The cost for the workshop $150-$350, and includes meals. Space is limited.
Earlier on AOA: Startup contest update: The Radix Center