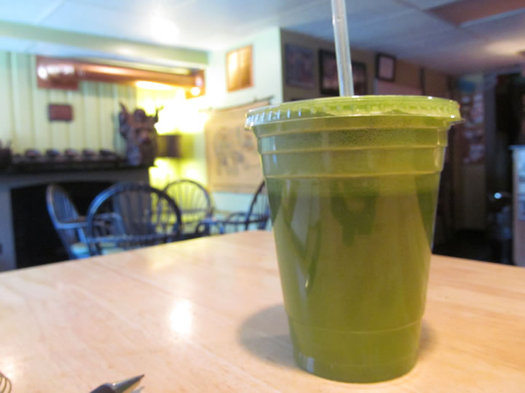 By Casey Normile
Juicing is the new (fill in the blank).
The new cleanse. The new vegetarian. The new subject of grand theft.
Jam-packing an entire day's worth of fruits and vegetables into one tasty cup appeals to both the health-conscious -- and those who don't like veggies but know they should have them.
Here's quick tour of a handful of juice bars around the Capital Region, with suggestions for both beginning and experienced juicers.

Honest Weight Co-op
Central Ave, Albany
Atmosphere: A little crowded. The juice bar is squeezed next to the prepared foods section in the middle of the store right in a usually busy walkway. (The new, larger location is projected to open in June.) But the juice operators are always friendly.
For beginners: Try "Cat's Meow," it's carrot, pear, and ginger. Good for you, full of Vitamins A, B and E and -- and said to be good for your liver, eyes, skin, and digestion. But the apples keep it sweet so you don't plunge head first into serious liquid veggies.
For experienced juicers: "Extra Green Dino" -- carrot, kale, parsley, and lots of celery. If you don't like celery, don't drink this. This is for serious juicers.
Lil' Buddha Tea
Lark St, Albany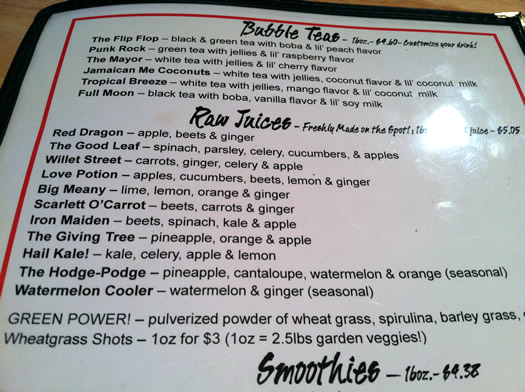 Atmosphere: Chill. Relaxing music plays while customers quietly chat or read at their tables. The menu lists all of the juices or you have the option of mixing your own. Choose one base ingredient from apples, oranges, cucumbers, watermelon, grapefruit, or carrot. Then you get to choose four add-ons, such as pineapple, kale, spinach, garlic, tomatoes, or even onion. You can make it as sweet or as veggie as you like.
For beginners: "Red Dragon," a combination of apples, beets, and ginger. It's sweet and tasty. Owner Shannon Feeney says he doesn't like beets, but he likes this juice. Plus, you get a nice boost of iron.
For experienced juicers: "Hail Kale." For a super-healthy juice you can brag about drinking, this is kale, celery, apple and lemon. It's green, it has iron and it has Vitamin C. I don't like celery -- at all -- but this juice was a tasty balance of fruit and veggies.
Pro tip: Feeney suggests drinking your juice on an empty stomach, which is supposed to help you absorb all of the nutrients. And for those who really don't like juicing, he suggests wheatgrass shots, which he says can cram the nutrients from a bunch of vegetables into into 2 oz. of juice. "That way you get it all over with in one hit," says Feeney.

Fresh Healthy Café
Crossgates Mall, Albany (first floor, Dick's Sporting Goods Entrance)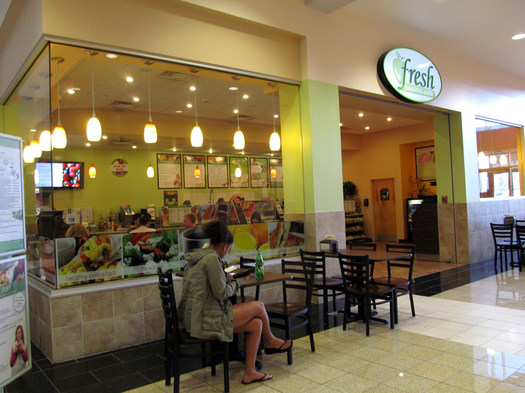 Atmosphere: An in-and-out restaurant meets Orange Julius meets low-fat dressings. It's a healthy alternative for a pre-movie meal at the mall but probably not somewhere to talk about the health benefits of juicing with one of the employees.
For beginners: "Body Cleanser": carrots, cucumbers and beets. Vitamin A, B Vitamins, iron, and sweetness. The cucumbers make it light and refreshing while you still get the super-food boost.
For experienced juicers: They have matcha green tea "Super Shots," which are basically concentrated shots that are said to be metabolism boosting and antioxidant rich. Also, "Detox" is parsley, celery, spinach, and carrot juice. More veggie tasting than sweet, but it feels cleansing and filling -- a good pick me up if you're feeling a little... blah.
Healthy Living Market
Wilton Mall, Saratoga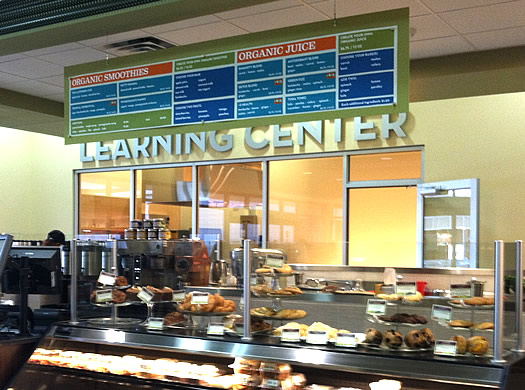 Atmosphere: It's a health food store mixed with a supermarket. Organic fresh ingredients, prepared food sections full of quinoa, and a bulk food section. The juice bar is in the back and the employees are extremely friendly.
For beginners: "Immunity Blend": carrot, lemon, melon. It's light and refreshing and full of enough vitamins to get you through that cold you feel coming on. Or, you can make your own juice and blend something you know you'll like.
For experienced juicers: "Green Fizz": kombucha, melon, spinach and ginger rinse. Without even mentioning the fact that no one knows what a ginger rinse is, this juice has the very trendy kombucha (it's fermented tea). The Healthy Living Market mix tastes funky and fermented.
Hi there. Comments have been closed for this item. Still have something to say? Contact us.