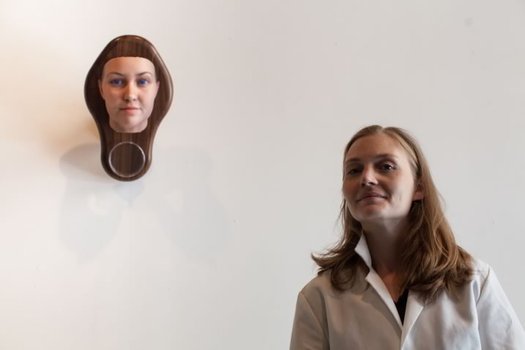 Filed under... well, we're not sure: Heather Dewey-Hagborg -- a PhD student in RPI's electronic arts program -- has been creating 3-D "portraits" based on found DNA. From the statement for "Stranger Visions":
In Stranger Visions artist Heather Dewey-Hagborg creates portrait sculptures from analyses of genetic material collected in public places. Working with the traces strangers unwittingly leave behind, Dewey-Hagborg calls attention to the impulse toward genetic determinism and the potential for a culture of genetic surveillance.
A press release from this March explains how she creates the portraits. The process, boiled down: Dewey-Hagborg collects discarded hair, cigarette butts, and chewing gum. She then takes it back to a lab, extracts DNA from the sample, amplifies certain parts of it, then looks for certain segments that are associated with various physical characteristics. The info then goes through a 3-D modeling program and the portrait is printed on a color 3-D printer.
Her website has a bunch of the portraits, along with photos the samples and where they were collected.
Here's a recent Smithsonian Mag article about the work. And a WSJ article. And a Studio 360 segment (complete with Kurt Andersen DNA mask).
We gotta admit we're skeptical of how accurately a portrait can (currently) be constructed from these DNA samples. But Dewey-Hagborg's comment about "genetic surveillance" is worth thinking about:
Genetic surveillance is the viewing of a person's genetic information without their knowledge or consent. As embodied creatures we leave genetic material around all the time - it's part of what makes us human. We are constantly leaving traces, clues as to who we are. The possibility of genetic surveillance is the possibility of analyzing these artifacts to extract incredibly personal, intimate information - things you may not even know about yourself. Additionally, the potential for genetic surveillance comes form the collection of genetic material in law enforcement, through services like 23andme as well as medical science and the increasing number of databases storing this information.
If I have your genome sequence, theoretically I can do more than just know very personal things about you. I can clone you. I can impersonate you. It's a sci-fi scenario but it is a reality now.
(Cue the Gattaca clip.)
Dewey-Hagborg's will be on display at RPI as part of the electronic arts spring grad show -- May 12, from 6-8 pm in West Hall.
[via Metafilter]

Hi there. Comments have been closed for this item. Still have something to say? Contact us.