By Casey Normile
Sure, you've seen plenty of tulips. But do you really know them?
Intrigued by these famous floral personalities from Washington Park, we had them sit for portraits -- and a look into their psyches...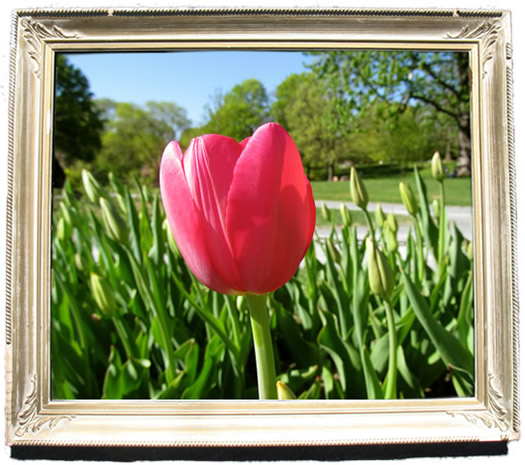 Kingsblood
Cherry Red, Single Late Family
Any Game of Thrones fans here? You know The Kingslayer? The attractive, fit, slithering yet powerful man that murdered the king. Well, this is him in flower form. Oh sure, he's pink and attractive, but he got the name Kingsblood somehow, didn't he? This is a dangerous tulip.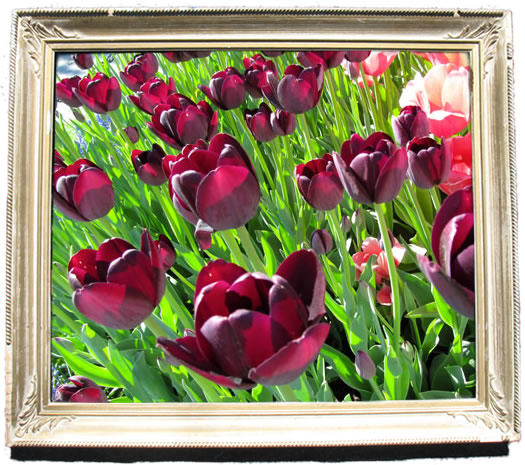 Queen of the Night
Dark Maroon, Single Late Family
This is the Lady Macbeth of the garden. Almost black in color, she looks a little ominous in the bed of bright flowers, but that's kind of why you like her. Her intentions seem as dark as her petals. Many men have trusted her only to be conquered by her and yet she still stands, small yet looming. You should probably keep her away from Kingsblood or things could get ugly.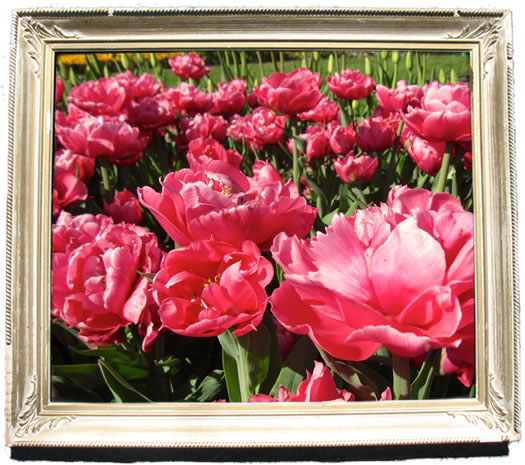 Crown Princess Mary
Bright Pink, Double Late Family
This tulip is the quiet dorky girl who shows up at prom and has her "she was beautiful the whole time" movie moment.
It first showed up at the Tulip Festival a few years ago, but no one knew what it was. An unknown bulb was sent over from The Netherlands for the festival and the gardeners all thought, 'Why not?' And planted it.
Before, she was just the algebra nerd who nobody paid attention to. She hid behind hand-me-down overalls and hair that she didn't have time to do because she studied too much. But then, the time came for Tulip Prom. And when she showed up in that bright pink dress, she blew everyone away.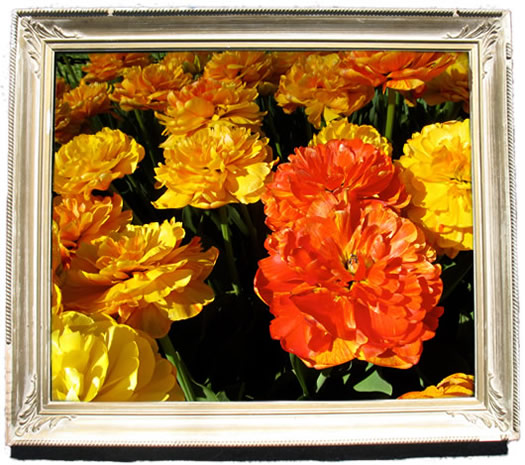 Double Beauty of Apeldoorn
Orange, Double Late Family
Well, with a name like that, you know this flower is a little showy. There's another tulip called "Beauty of Apeldoorn" but this flower just had to one up it. I mean, sure it's pretty, full and vibrantly orange, but it would be the first to tell you that. Nobody likes someone who talks about how attractive they are. And where is Apeldoorn anyway? (The Netherlands. Of course.)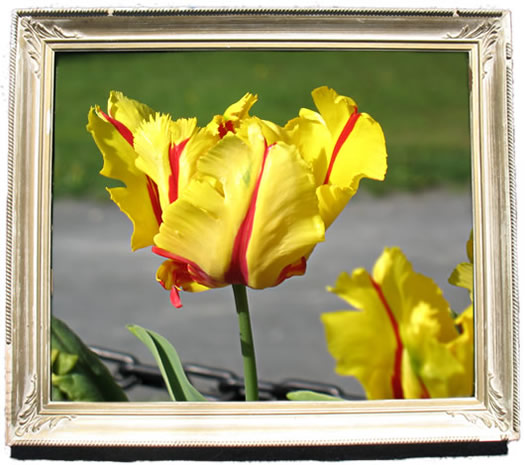 Texas Flame
Yellow with a red flame, Parrot Family
This flower is the beauty queen of the bunch. Colorful, bright, unique and getting ready to steal the show. As part of the parrot family, the petals are, as city gardener Jessica Morgan describes, "rippled." That, along with the bright yellow and red coloring, makes quite the spectacle. But naturally, she's slow to bloom. Like in a beauty pageant, you don't just start with the flaming batons, you have to make the people wait a while and listen to the personal interviews.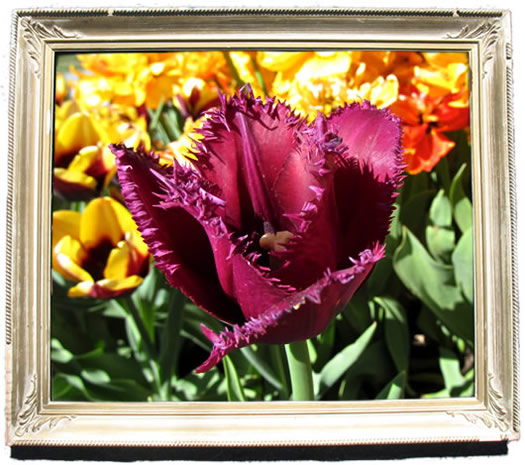 Curly Sue
Dark Purple, fringed edges, Fringed Family
Curly Sue is the weird aunt that everyone loves. A favorite at family reunions, she's the one who wears the fun jewelry, has all the great stories about backing through Europe during the Summer of '82 and never afraid to be as kooky as she really is. And at the Tulip Festival, she's a favorite. The fringed family all have petals with edges that look like a frayed piece of cloth and her deep purple color completes her stand-alone look.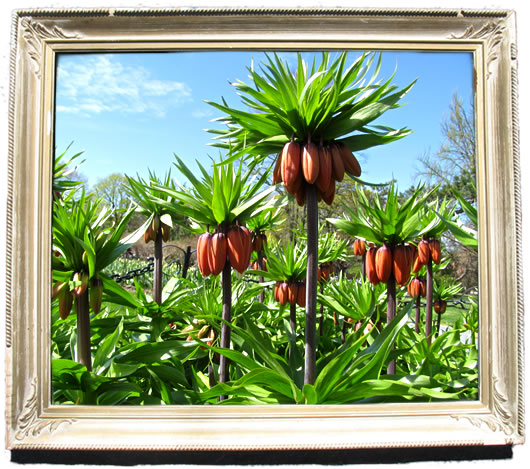 Kaiser's Crown
Tall plant, Orange flower, Lily Family
This is actually a type of lily, but is the protector of the festival. You see, there are plenty of critters that would love to dig into the tulips when they have a chance. But this strange flower gives off a distinctive skunk smell (hence its other name, the Skunk Lily). This smell deters some of the animals who would rather eat the flowers than ogle them and take pictures of them like we prefer to do.
The Kaiser Crown is your smelly big brother. Sure, he forgets to shower and he might embarrass you a little when you walk by him, but at the end of the day, he's the one making sure squirrels don't eat you.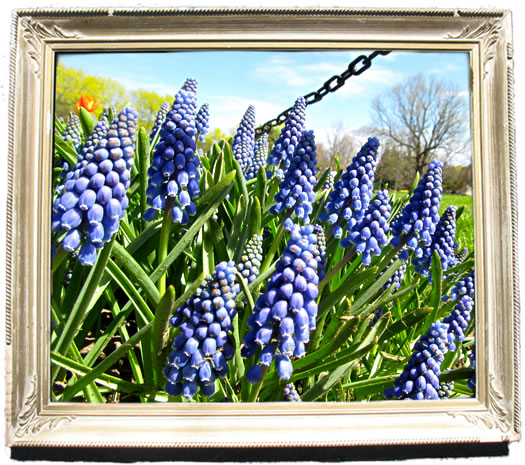 Muscari
Small blue-purple flowers, bell shaped (also known as Grape Hyacinth)
Everyone notices celebrities. They see them on the street, filming on location, walking the red carpet, getting Starbucks, etc. But no one ever really sees the assistant or manager who is keeping that person functioning on a daily basis. They keep them moving, make sure they're up in the morning, make sure they look good, and trying to keep a smile on their face for when the next fan approaches for a photograph.
The muscari is that assistant. Almost every tulip bed is bordered by these small colorful flowers; not so much for their beauty, but because they tie the arrangements together without drawing away attention from the real celebrities, the tulips. So take a minute to appreciate these unsung heroes.
Say Something!
We'd really like you to take part in the conversation here at All Over Albany. But we do have a few rules here. Don't worry, they're easy. The first: be kind. The second: treat everyone else with the same respect you'd like to see in return. Cool? Great, post away. Comments are moderated so it might take a little while for your comment to show up. Thanks for being patient.