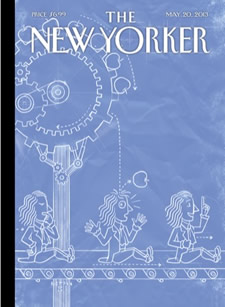 The new issue of the New Yorker include a good article about Ecovative by Ian Frazier. Here's a clip:
Gavin McIntyre, the co-inventor of a process that grows all-natural substitutes for plastic from the tissue of mushrooms, holds a pen or pencil in an unusual way. Gripping it between two fingers of his right hand, he moves his arm across the paper so that his wrist grazes the inscribed line; because of this, he uses pens with ink that doesn't smear. When he draws an explanatory diagram of the chitin molecule--chitin is the principal component of mycelium, the white, rootlike vegetative structure of fungi--he bends over his work, then looks up earnestly to see if his hearer has understood. The gesture makes him appear younger than his age, which is twenty-eight. He wears glasses and has straight black hair, dark eyes, and several piercings, with studs in his lip and ears.
The other co-inventor, Eben Bayer, won't be twenty-eight until June. Bayer is almost six-five, and often assumes the benign expression of a large and friendly older brother. His hair is brown, short, and spiky, his face is long, and his self-effacing manner hides the grand ambitions that people who come from small towns (Bayer grew up in South Royalton, in central Vermont) sometimes have. When he says, of the company that he and McIntyre founded, "We want to be the Dow or DuPont of this century," he is serious. He is their company's C.E.O., McIntyre its Chief Scientist. People with money and influence have bet that they will succeed.
As you know, Ecovative is based in Green Island -- and both McIntyre and Bayer are RPI alumni.
The article highlight both of the founders' backgrounds, along with the key role of RPI professor Burt Swersey in encouraging them, and mycologist Sue Van Hook in helping to grow Ecovative's library of fungus. And it also includes a bunch of interesting bits about the company's beginnings, tech, and plans (fungal resistors for mobile phones?).
More than anything, though, Frazier elegantly lays out Ecovative's ideas alongside the history of Dow Chemical -- the producer of Styrofoam -- and explains why Ecovative could be such an important, industry-altering company.
Earlier on AOA: A whole bunch of items about Ecovative
Hi there. Comments have been closed for this item. Still have something to say? Contact us.