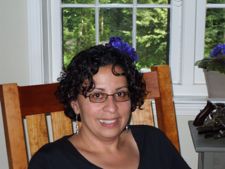 Each week with My Exit our friends at WEXT give us a chance to check out what's on the playlists of people in the Capital Region.
Today's guest DJ, Jen Acuna.
Who?
Hi my name is Jen Acuna and I love music, cooking, baking, singing, dancing and reading. This is my second My Exit show.
This time around I decided to feature some of my favorite male vocalists and musicians. I have to emphasize musicians because two of the tracks are instrumentals. They feature Gato Barbieri's saxaphone, Chris Botti's trumpet and Lucia Micarelli's violin. The song by Chris and Lucia I chose because her use of the violin makes me think of tears streaming down the face of a person packing up to leave.
How would you describe your taste in music?
If I had to define my choice of songs this time around, the playlist illustrates young love, love committed, love waning, love lost and new beginnings.
A few songs from Jen's My Exit:
"Love Train" - Pete Belasco
Who doesn't remember the thrill of young love? "No ones gonna love you better well there's no one you can find you'll be writing your love letters in the middle of the night". All I can think of with this song is the pure elation one feels when in love; the dancing, singing and smiling that accompanies a new relationship.
"Seven Servants" --Gato Barbieri
A definite get you in the mood song. Enough said.
"If This World were Mine" --Marvin Gaye and Tammi Tyrell
Here is a song you would sing the morning after a night of love reaffirmed. With lyrics like, "If this world were mine, I'd make you a king with wealth untold, you could have anything... and the sky would be blue as long as you're lovin' me... So basically everything would be right with the world. That sounds just about right.
"Just to Keep You Satisfied" -- a Marvin Gaye cover done by Mr. Lattimore
This is the love lost song. "You were my wife, my life, my hopes and dream... It's time for us to say farewell, farewell my darlin'... Much too late for you to cry... Sometimes, even after all work we do to preserve a relationship, the time comes to say goodbye.

"Let it Be Me" -- Ray Lamontagne
So here is a song about doors slamming in your face, coming in last, feeling alone but there is someone in your midst who keeps reinforcing the notion of leaning on them. This could be a person you may have known for quite some time, who has been there for you and who has loved you without you even knowing it. Give that person a chance.
So I hope you enjoy my tale of the genesis and the evolution of love. Thanks again to KTG from WEXT for letting me take you on a journey of musical emotions.
You can hear
Jen's My Exit show Monday night at 11 pm on 97.7, Saturday at 8 am, or at exit977.org.
Here's how to schedule your own My Exit show on WEXT.