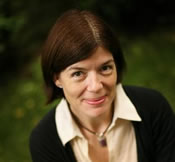 Claire Messud
The schedule is out for this summer's New York State Writers Institute's public readings series in Saratoga.
As usual, there are a bunch of names you'll recognize. The readings are in the evenings on the Skidmore campus -- they're free and open to the public.
The readings are at 8 pm at Skidmore's Palamountain Hall.
July 1: Campbell McGrath (poet, American Noise) and Elizabeth Benedict (novelist, Almost) (novelist, The Practice of Deceit; Almost)
July 2: Paul Auster (author, The Brooklyn Follies) and Siri Hustvedt (novelist, What I Loved)
July 3: Ann Beattie (novelist, Love Always) and Robert Polito (poet, Hollywood and God)
July 4: Frank Bidart (poet, Metaphysical Dog) and Binnie Kirshenbaum (novelist, The Scenic Route)
July 5: Robert Pinsky (former Poet Laureate)
July 8: Phillip Lopate (author, Portrait Inside My Head) and Adam Braver (novelist,Misfit)
July 9: Rosanna Warren (poet, Ghost In A Red Hat) and Caryl Phillips (novelist, A Distant Shore)
July 10: Bharati Mukherjee (novelist, Miss New India) and Clark Blaise (novelist, The Meagre Tarmac)
July 11: Claire Messud (novelist, The Woman Upstairs) and Jorie Graham (Pulitzer Prize; author, Dream of the Unified Field)
July 12: Joyce Carol Oates (National Book Award, them; We Were The Mulvaneys)
July 15: Amy Hempel (fictionist, The Dog of the Marriage) and Honor Moore (memoirist,TheBishop's Daughter)
July 16: Russell Banks (novelist, The Darling) and Chase Twichell (poet, Dog Language)
July 17: Rick Moody (fictionist, Demonology) and Tom Healy (poet, What the Left Hand Knows)
July 18: Mark Strand (Pulitzer Prize, Poetry) and Peg Boyers (poet, Honey with Tobacco, Hard Bread)
July 19: William Kennedy (Pulitzer Prize, Ironweed; Roscoe)
July 22: Mary Gaitskill (novelist, Veronica) and Jane Shore (poet, That Said)
July 23: Jamaica Kincaid (novelist, See Now Then) and Henri Cole (poet, Middle Earth)
July 24: Charles Simic (Former Poet-Laureate, Pulitzer Prize, New & Selected Poems) and Linda Spalding (novelist, The Purchase)
July 25: Michael Ondaatje (Booker Prize, The English Patient) and Howard Norman (novelist-memoirist, I Hate To Leave This Beautiful Place)
July 26: Richard Howard (Pulitzer Prize, Poetry, Talking Cures) and Jim Miller (Democracy is in the Streets)
The reading series is part of the Summer Writers Institute, which includes courses in poetry, fiction, and nonfiction.
Also in Saratoga this summer: Neil Gaiman will be at the Saratoga City Center June 20.
photo via Claire Messud Facebook