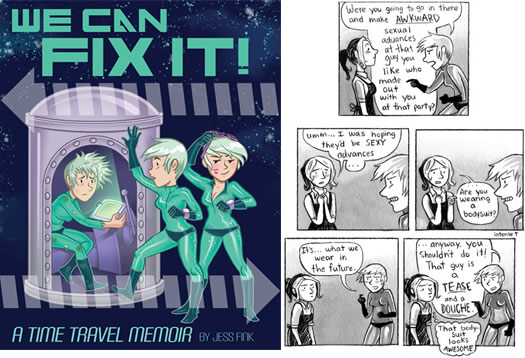 Check it out: We Can Fix It!, a comic novella by talented Troy artist/illustrator/writer Jess Fink, is out this month.
The work is autobiography with a twist: Fink travels back in time in an attempt to help her former selves. It results in some fantasies we've probably all had -- like providing her younger self with the comeback to an insult. But it also prompts her to re-examine how she acted and why. And, of course, not everything goes as planned. It is at turns funny, charming, and intense.
Or, as Fink summarized it to us one time: "It's part autobiography, part sci fi, part make-outs and farts jokes."
Here's a good write-up about it at io9.
We Can Fix It! is available in both hard copy ($14.95) and digital ($6.99).
Among Fink's other work is Chester 5000 XYV, a comic and graphic novel about a Victorian-era man who creates a sex robot for his wife -- with unexpected results.
Earlier on AOA:
+ Jess Fink has created the best book about Victorian robot sex that we've ever read
+ The often-imitated Jess Fink
images: Jess Fink / Top Shelf