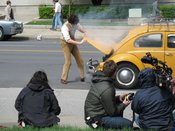 From a Variety review of Muhammad Ali's Greatest Fight, the HBO movie that shot in Albany a year ago, and recently screened in Cannes:
[Director] Stephen Frears splices in archival footage of Ali at his articulate, charismatic best, but really, the main dramatis personae are Eight Grumpy Men from the Supreme Court (one, Thurgood Marshall, recused himself) as they argue around a conference table. Result is a worthy but faintly dull civics/history lesson that's well suited to broadcast by producer HBO, but doesn't have the muscle mass for theatrical distribution.
Here are a few clips from the movie at Indiewire.
The movie's slated for HBO in the fall. [EW]