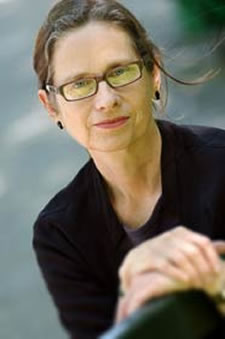 This is great: Lydia Davis -- a professor and writer-in-residence at UAlbany -- has won the Man Booker International Prize, which is awarded every two years based on the body of a writer's work.
Davis is known for her short stories -- some of them as short as just a sentence or two. Said Christopher Ricks, the chair of the judging panel for this year's prize of Davis' stories, in a press release: "Just how to categorise them? They have been called stories but could equally be miniatures, anecdotes, essays, jokes, parables, fables, texts, aphorisms or even apophthegms, prayers or simply observations ... There is vigilance to her stories, and great imaginative attention. Vigilance as how to realise things down to the very word or syllable; vigilance as to everybody's impure motives and illusions of feeling."
Here's an example of one of Davis' ultra short works, called A Double Negative:
At a certain point in her life, she realizes it is not so much that she wants to have a child as that she does not want not to have a child, or not to have had a child.
As she told the Guardian a few years back: "When I first began writing seriously, I wrote short stories, and that was where I thought I was headed. Then the stories evolved and changed, but it would have become a bother to say every time, 'I guess what I have just written is a prose poem, or a meditation', and I would have felt very constrained by trying to label each individual work, so it was simply easier to call everything stories."
The £60,000 prize is related to the famous Man Booker Prize, which is awarded annually to an author from the United Kingdom, the Commonwealth or the Republic of Ireland, based on a single book. The international prize was first awarded in 2005 -- it goes to an author of work originally published in English or available in translation. Previous winners include Ismail Kadare, Chinua Achebe, Alice Munro, and Philip Roth.
This isn't the first major award for Davis. She also received a MacArthur fellowship -- the "genius grant" -- in 2003. And as if being an acclaimed author isn't enough, she's also a renowned translator of French works, including those of Proust and Flaubert.
Her most recent book is a compilation, The Collected Stories of Lydia Davis, published in 2009. In the New Yorker, James Wood said the collection "will in time be seen as one of the great, strange American literary contributions, distinct and crookedly personal."
Community workshop: The New York State Writers Institute says Davis will be teaching a free community writers workshop at UAlbany this fall. It will be "open to the public on a competitive basis." Watch the institute's website for details.
photo: David Ignaszewski / MacMillan
Hi there. Comments have been closed for this item. Still have something to say? Contact us.