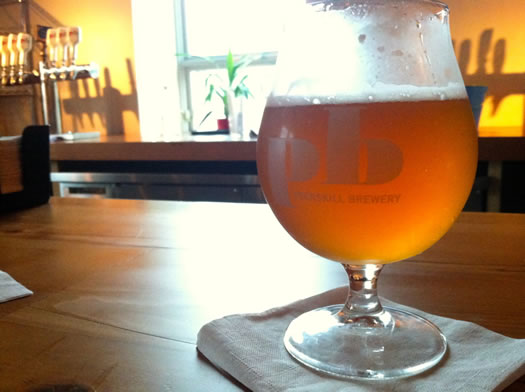 By Casey Normile
Have you ever tried a beer and thought to yourself: "This is the best beer around."
Well, this year at TAP NY, they made it official. For the first time, the New York beer festival awarded the Governors' Cup to a brewery for best craft beer in New York State.
The winner: the Peekskill Brewery in Peekskill, for its Higher Standard IPA.
So I obviously had to try the best beer in the state... you know, for journalism.
Location
The Peekskill Brewery is about two hours south of Albany, on the east side of the Hudson. But, when we got there, we realized the train station is a 5-minute walk from the brewery. So, if you plan on enjoying the brewery's full menu of craft beers, you could take Amtrak to Poughkeepsie and then MetroNorth to Peekskill. It would cost more, but it would be a safe option for the return trip.
The brewery has a bar and tasting room downstairs and a pub upstairs. We opted for the best of both worlds and sat at the bar in the pub so we could also sample the menu (and so we didn't have to wait for a table).
The beer
My first impression of the Higher Standard IPA was beautiful color and a way-too-hoppy smell. Don't get me wrong, I like hops. I like IPAs and I know they are very fashionable right now, but I also like refreshment. Hearty stouts and serious IPAs have their place and time -- camping, serious conversations about life, and fancy dinner pairings -- but not that night.
From the nose, I was afraid I was about to taste another harsh super-hopped IPA, but was pleasantly surprised. As my friend described it, the Higher Standard is "crazy smooth for a 9.3 percent." The beginning of the sip is chock full of hops, but the finish is smooth and light. It has a medium body and is dangerously drinkable for a serious brew, so even though it finishes smooth, keep in mind that this IPA packs a punch.
So why is this the best beer in New York State? I can't speak for the judges at TAP NY, but for me it was the smoothness of this triple. While many craft brewers seem to be packing on the hops and the harshness these days, brewmaster Jeff O'Neil (formerly of Ithaca Brewing Company) has created a brew with all the pleasing power of an IPA without so much of the kick.
Be warned: if you are not a hophead, this might not be the beer for you. Even though it has less of a kick than, say, Victory's Hop Devil IPA, it's still a triple.
The rest of the list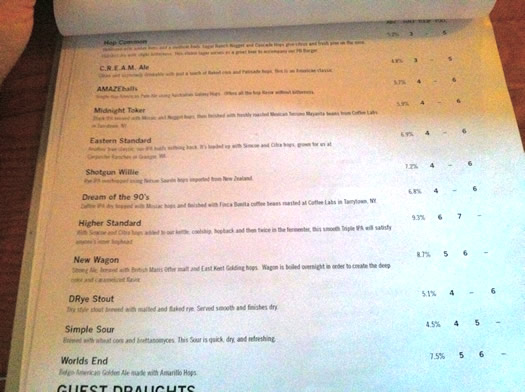 Other options on Peekskill's beer menu I would suggest:
+ The pale ale AMAZEballs (try to see past the name)
+ Dream of the 90s, a delicious coffee IPA
+ Or the Simple Sour. The sour is, of course, tart, but is a great summer brew.
The brewery also changes their cask every Thursday and it is basically the brewer's playground. So if you'd like to see where their imagination has taken them, visit on a Thursday or Friday. One week they had a cask conditioned brewed with mango puree -- that sold out within 24 hours.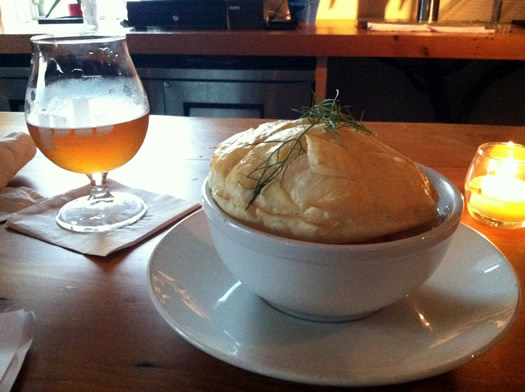 It's a hip place where many of the locals quench their thirst but also offer an interesting dinner menu, an extensive list of wines and spirits, and cocktails I'd love to try next time I visit... you know, if I get sick of the best beer in New York State.
Whether you take the train or your car, bring your growler. They have an impressive fill station downstairs and the brewery doesn't distribute outside its own area. So fill up on your favorites while you can.

Hi there. Comments have been closed for this item. Still have something to say? Contact us.