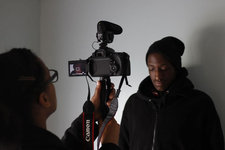 The Grand Street Community Arts' YouthFX teen filmmaking program is premiering the short films from its 2012 season tonight (Thursday) at the Madison Theater in Albany.
Twelve films are on the slate covering a range of topics, among them: bullying, poetry, the Albany High School girls' basketball team's championship season, and the city of Albany's youth boxing program. The full slate is after the jump.
There are two screenings: 7 pm and 9:15 pm, with a Q&A with the filmmakers after each. Tickets are $8 for adults, $5 students. Proceeds go to support YouthFX's summer program.
Descriptions from YouthFX.
Taking Flight (6 min.) dir. by Aden Suchak, Richard Opoku & Josh Lopez
A look at the championship season of the AHS Lady Falcons basketball team.
Unity (2 min.) dir. by Richard Opaku
A video poem that emphasizes the connections between us all.
Outbreak: The Musical (12 min.) dir. by Imani Peterkin & Maya Suchak
As a deadly flu-like virus spreads, Ashley tries to re-unite with her boyfriend Trey. Along the way she meets up with another group of friends who break out in random dance numbers to combat the sadness around them.
Journey (3 min.) dir. by Majestic Tillman, Imani Peterkin, Camirr Sanders, James Holsinger
Life on The West Side (6 min.) dir. by David Salmon & Miles Jackson
Behind the scenes of AHS Theatre Ensemble's production of West Side Story
Just as Ruthless (3 min.) dir. by Rashid Howell, Brianna Carter, Morgan Heyward, Ejaniia Clayton
Bullying looks different for different genders, the effects are just as devastating.
More Than a Word (9 min.) dir. by Morgan Heyward, Malcolm Moore & RJ Ford
A provocative exploration of the "n-word", it's origins and current usage.
Destination (3 min.) dir. by Seneca Bonds, Omari Gaston, Clancy Morgan, Kalia Ogden, Sharona Washington
Shadow (11 min.) dir. by Meka Wamsganz, Aden Suchak, Elle Newburg & Wylia Mcleod
This powerful short film uses a unique style of filmmaking to explore the consequences of bullying in high school.
Inside The Ring (8 min.) dir. by Imani Peterkin, Darian Henry, Freddie Boehrer, Richard Opaku
This short documentary profiles the City of Albany's boxing program, introducing viewers to coach Jerrick Jones and some of the up and coming boxers who he trains.
Breakout (9min.) dir. by Darian Henry, Majestic Tillman, Rashid Howell & Aden Suchak
Four teenagers escape from a mysterious gang only to be confronted by their past.
Behind The Scenes Look at the 2012 Youth FX Summer Program (6 min.)
photo via YouthFX Facebook