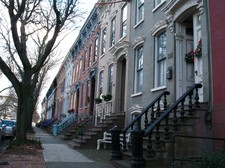 One of the interesting things about the Capital Region is that there's history seemingly everywhere. Maybe even in your own house.
This Saturday (June 1) at the Albany Public Librarian's main branch there's first part of a two-part workshop on researching the history of your house. The how-to session features a solid lineup of experts:
+ Tony Opalka, Albany city historian
+ Ellen Gamache, APL local history librarian
+ Cara Macri, director of preservation services at Historic Albany Foundation
+ Akum Norder, writer of the Times Union "A History of Here: Life in Albany, Past and Present" blog. (Akum has been doing extensive research about the history of her house and the Pine Hills neighborhood. She's posted a research guide online.)
The workshop is 2-4 pm in the library's large auditorium. It's free.
The second sessions -- "An Uncommon Cape: Researching the Histories and Mysteries of a Property" -- is June 8, same place and time. More details post jump.
From APL:
Part 2: "An Uncommon Cape: Researching the Histories and Mysteries of a Property"
June 8 (Saturday) at 2-4 pm, Main Library
Eleanor Phillips Brackbill, author of "An Uncommon Cape," bought an ordinary Cape Cod-style house and was inspired to research its history. It took eight years and the unraveling of several mysteries to unlock the secrets of her home, and the parcel of land it occupies, which dates back to Colonial times. Brackbill shares how she traced the history of her property and offers practical suggestions on how to do a similar project for your own home. A book signing follows Brackbill's presentation.
Yep, the APL has advertised on AOA.
Hi there. Comments have been closed for this item. Still have something to say? Contact us.