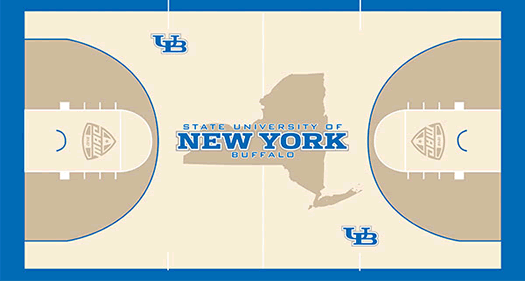 Updated
So, apparently, the University at Buffalo is making a move toward some sort of claim on being the "State University of New York" via its athletics program. The new floor design for its basketball arena makes the intention pretty clear. [Buffalo News] [UB Sports]
As state university systems go, New York is unusual in that it doesn't have one (or two) huge main universities a la Ohio or Michigan or Pennsylvania. Instead, there are the "flagship" or "university center" campuses -- Buffalo, Albany, Binghamton, and Stony Brook -- which always seem to be formally or informally angling to get to the head of the line. Which arrangement -- huge central campus, or distributed system -- is better is an interesting question (and probably hard to answer).
Anyway, New York's system keeps any one school from claiming to be the New York State University (as at least one university officially claims to be in its state). Maybe that's not a big deal functionally, but from a marketing standpoint the tag seems like it could be valuable, especially out of state -- even if it's just for sports. (Syracuse University has been trying to stake a claim in that space for years.)
Now UB's taking a shot at it, though in a limited way. Zooming out a bit, it looks like another move in the ongoing competition by SUNY schools to differentiate and highlight themselves via sports. (Tangental fact: Combined athletics spending at the four flagship SUNY schools increased more than 52 percent between 2003 and 2011. Details here.) [NYT 2009]
Interestingly, all this is perhaps to the chagrin of some people in Buffalo, who feel like the move is a slight toward the city. Hey, if anything, it does away with the awkward "university at" phrase. [UB Bull Run/SB Nation]
NYSU: This sort of talk isn't new. About 10 years ago, according to the Buffalo News' Bob DiCesare, Tom Golisano reportedly offered UB "unspecified millions" if the school changed its name to New York State University.
Empire State University: There's already an Empire State College, which specializes in distant learning and "non-traditional" college classes. It has offices in Saratoga Springs. There is not an Empire State University -- at least, outside comic books.
image: UB Athletics
Hi there. Comments have been closed for this item. Still have something to say? Contact us.