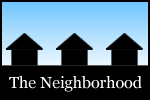 Among the topics in this most recent spin around the Capital Region's online neighborhood: Memorial Day, stopping, a Guy, Burlington, orthopedic surgeons, the Jericho Drive-In, conveniences, true crime, cookies and upstate, mead, Fish & Game, maple syrup, pizza, mistaken identity, whiskey, Glens Falls, and tradition.
The Bee Balm Gal spent part of Memorial Day at the Saratoga National Cemetery with the Blue Star Mothers.
You know how sometimes you see something and think, "Someone should help them"? Katelyn actually stopped and helped them.
Randal is hoping for a good ending for this Guy.
Jen spent the weekend in Burlington for the Vermont City Marathon. Jona was also there and re-capped by the numbers.
One of Kristi's readers asked for orthopedic surgeon recommendations.
Chuck experimented with light at the Jericho Drive-In.
Nora pointed to a few conveniences on which she thinks Schenectady is ahead of Albany.
Carl started "True Crime: Schenectady" week.
Albaniana's husband participated in the Bethlehem Memorial Day parade in an unusual way.
A cookie prompted some thoughts by Mr. Dave about upstate.
Gregory checked out the Helderberg Meadworks in Duanesburg.
Steve ate at the new Fish & Game in Hudson, "an extraordinary restaurant."
Daniel compared some local maple syrups side by side.
Ashely shared "pretty much my favorite pizza ever" from Mama Mia's in Saratoga.
A case of mistaken identity led Rochelle to pizza in Troy.
Jon picked up his bottle of Ironweed whiskey from Albany Distilling Co.
Jerry enjoyed the pizza fritte at Sciortino's.
Albany Jane spent a day around Glens Falls.
Rob commemorated a tradition from his son's high school.
A Bob captured some "strange" clouds in Troy.