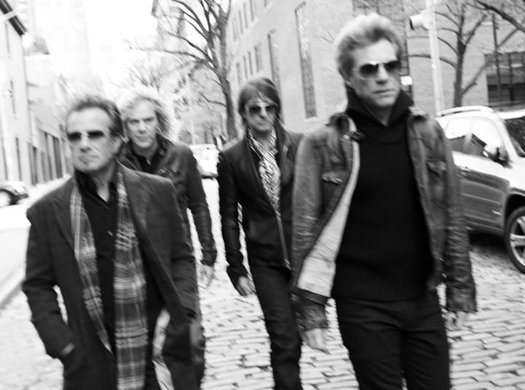 At the intersection of rock anthems and the willing suspension of irony, there is a guy with really great hair.
Bon Jovi is scheduled to play at SPAC July 22. Tickets go on sale June 10 (there's also a pre-sale) -- they're $35 and up (there's also a lawn four-pack for $99).
Back when "Livin' on a Prayer" and "You Give Love a Bad Name" were atop the charts in the 80s, it's probably safe to say Bon Jovi wasn't a lock to become a mainstay of pop music. A Rolling Stone review of Slippery When Wet was scathing: calling the lyrics cliche, the band "barely functional," Jon Bon Jovi's voice "bland," and the whole thing a "a smudgy Xerox of Quiet Riot." Burn. (Or were people saying "snap" back then? Maybe it was something else.)
But the band has gone onto sell 135 million records -- and hit the #1 spot on the US album chart in three different decades.
Tom Petty + Wallflowers
The Wallflowers have been added to the Tom Petty show at SPAC June 23. Tickets are $39.50 and up.
Live Nation advertises on AOA.
photo via Bon Jovi Facebook

Hi there. Comments have been closed for this item. Still have something to say? Contact us.