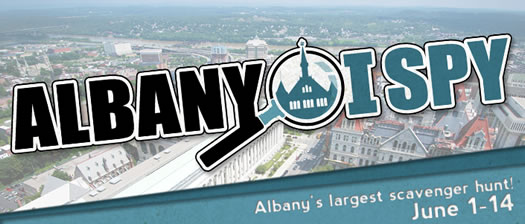 Starts Saturday, June 1: Albany I Spy, a sort of history/architecture scavenger hunt of downtown Albany, organized by the mysterious Albany Archives. Blurbage:
Participants will download a form from www.albany.org/ispy that includes 14 clues, one for each of the buildings/landmarks in the downtown area that have been selected for this contest. Using the clues provided on the form, as well as the daily additional clue that can be found on the sponsors' social media sites and by using the hashtag #albanyispy, participants will take to the streets of downtown to find the building and correctly list it on their sheet.
At the end of the two-week contest, participants will submit their forms for judging. The participant/team with the most correct answers will win the grand prize. Additional prizes for participation will be awarded.
The guide with the first 14 clues will be posted online June 1. The game ends Saturday, June 15, at the City Beer Hall from 1-3 pm, where people can turn in finished answer sheets (by 1 pm), partake of a drink and some history/architecture socializing, and hear the winners announced (at 2 pm). (Answer sheets can also be emailed to admin@albanyarchives.com.)
The lineup of prizes includes:
+ $50 gift card from the Downtown Albany BID to downtown businesses
+ Gift basket from the Albany Visitors Center Gift Shop ($50 value)
+ $50 gift certificate from City Beer Hall
+ 4 gift certificates for $25 from Bombers, Wolff's, the Olde English, and Sciortino's.
+ Downtown Albany BID t-shirts
The person behind the curtain of Albany Archives approached us a few months back about the game and it sounded fun, so AOA will be sharing clues throughout the two weeks. Clues will also be available via the Twitter accounts of the Downtown Albany BID and the Albany County Convention and Visitors Bureau.
Hi there. Comments have been closed for this item. Still have something to say? Contact us.