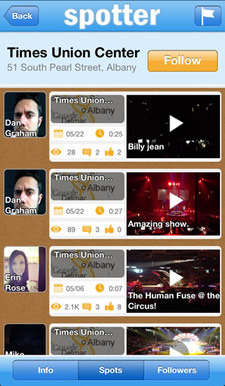 Here's another mobile app with local roots: Spotter. The app allows people to take a video, upload it and share it -- and here's the twist -- associate it with a place. The videos can then be searched by location -- or a person can follow a place to track videos associated with that location (the same way you'd follow a person on Twitter or Instagram).
So, for example, you could follow the location of a concert venue to see videos shot there during a show (or many shows over time). Check out the screen shot on the right.
Spotter is the creation of three guys: Mike Groves, Kevin Pytel, and Dan Graham. Here's a recent interview with Pytel about what they have cooking.
The app is currently only available for the iOS. It's free.