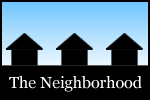 Among the topics in this most recent spin around the Capital Region's online neighborhood: not fearing for your life in Troy, growing in Albany, the rod of Moses, a storm and Stewart's, ghost signs, traffic, ABCs, flower finds, the Tour de Gelato, the Capital District Bacon Challenge, cooking eggs, splurges, CSA triage, cable, a summer reminder, and unusual display.
Jessica tried to convince the Golden Girls that she doesn't constantly fear for her life in Troy.
Approaching her 5 year Albany anniversary, Katelyn reflected on her time here: "As much as you grow when you first move away from home and head to college, I've grown up so much more in my 5 years in Albany."
Akum highlighted the story of how the Washington Park Moses lost his rod in 1967 -- and got it back during a midnight meet with a journalist.
Kristi touched on a story involving Stewart's, a man in a wheel chair, and a storm.
Chuck documented unrestored ghost signs in downtown Albany.
As frozen yogurt and burritos arrive in Glenmont, Rob's not so happy about what's accompanying them.
Silvia took her son to see DMB at SPAC and shared some ABCs of concert going with him.
Jackie went on a three-day festival of flower finds with fellow flower nerd.
Daniel B compiled results from the Tour de Gelato.
Jon laid out all the steps of makin' bacon at home as part of his Capital District Bacon Challenge.
The Fuj tried the everything bagel from Albany Bagel Co.
Jerry had a good time teaching a cooking class about eggs at Different Drummer's.
A deal on a leg of lamb at ShopRite prompted Steve to ask about grocery shopping splurges.
Leah explained her weekly CSA triage.
Scott enjoyed a stop at Crossroads Brewery in Athens.
Albany Jane spent Memorial Day at Ala Shanghai.
Knowledge of reggae somehow helped Stephanie get cable installed faster.
It sounds like a happy ending for the dog picked up by Randal.
Carl made a reminder to himself about summer.
And Paula spotted an unusual window display on Lark Street.
Hi there. Comments have been closed for this item. Still have something to say? Contact us.