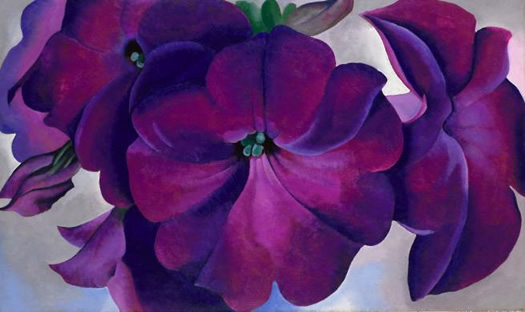 Opening this weekend at the Hyde Collection in Glens Falls: Modern Nature: Georgia O'Keeffe and Lake George, an exhibit of the painter's work during her time staying at Lake George. Blurbage:
The Hyde Collection, in association with the Georgia O'Keeffe Museum, is organizing a first-of-its-kind exhibition that will closely examine the extraordinary body of work created by O'Keeffe of and at Lake George. From 1918 until the mid 1930s, O'Keeffe (1887-1986) spent part of the year at Alfred Stieglitz's family estate, a thirty-six acre property situated just north of Lake George village in the southern basin of the lake. The exhibition will present a selection of fifty-eight paintings from both public and private collections.
Stieglitz, himself a famous photographer, organized O'Keeffe's first solo exhibition at a gallery in New York City. Their relationship -- which included a prodigious exchange of letters -- eventually led to marriage. And O'Keeffe became a frequent subject of Stieglitz's photos.
Modern Nature: Georgia O'Keeffe and Lake George is said to include "full range of works by the artist" -- from "magnified botanical compositions of flowers and vegetables, to a group of remarkable still lifes of apples and pears" to architectural subjects and Lake George panoramas.
The exhibit will be at the Hyde Collection June 15-September 15. The museum is expecting crowds -- so it's offering advance tickets. They're $12.
Hi there. Comments have been closed for this item. Still have something to say? Contact us.