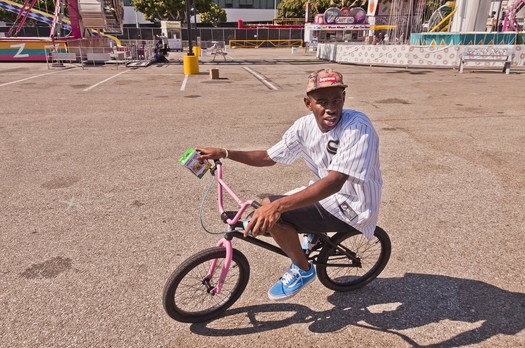 Hip hop collective Odd Future is lined up for a show at Upstate Concert Hall July 18. Tickets are $25 ahead / $27 day of -- and they went on sale this past Friday.
The LA-based Odd Future collective includes a bunch of different artists who make up multiple groups. How many and who is hard to figure. (Frank Ocean is a part of it.)
The leader -- and frequent focus of attention -- is Tyler, the Creator. He is alternately described as "one of hip-hop's true originals", "precociously charismatic and smart", and the head of the "the 'world's most notorious rap group' with a reputation for willfully unpleasant lyrics" and "stupendously inappropriate." His work keeps people guessing -- "meaningless shenanigans" or "most poignant, sharpest social critique yet"? And the friction in trying to figure him and Odd Future is probably increased by generation gaps -- like the recent episode in which a Mountain Dew commercial developed by Tyler, the Creator got pulled after it caught criticism, which in turn prompted a public dialogue between Tyler and a professor about racism.
So, who from the Odd Future crew is going to be at the show? We checked with the promoters today and the lineup hasn't been announced, yet. Members of the collective will be coming off a tour of Europe and Australia, where a feminist group recently lobbied to have Tyler, the Creator's visa revoked.
photo: Incase Flickr/Ian Ernzer (cc)
Hi there. Comments have been closed for this item. Still have something to say? Contact us.