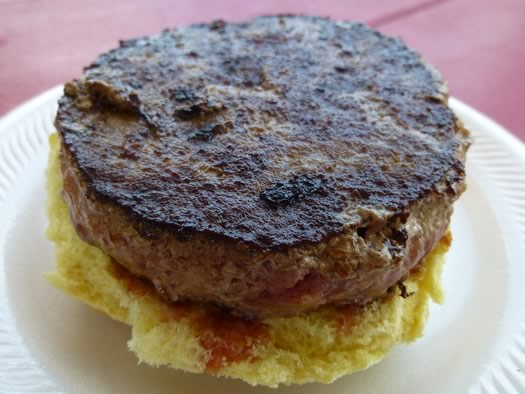 By Daniel B.
We've been blessed with a long cool spring, but soon it will get hot. And when it does you will be faced with three choices: sweat, seek air conditioning, or head for the water.
A patch of shade with some cooling breezes coming off the water is one of summer's great pleasures. Waterfront dining options far too often take advantage of the situation and charge outrageous premiums on barely adequate food.
Yet somehow in the Capital Region we've seemed to avoid the worst of that. You can eat on the banks of the Hudson at Dinosaur Bar-B-Que or in sight of the Mohawk at Jumpin' Jacks without being gouged for the view. These places are locally famous. But there is another restaurant nearby that most people probably have never heard about. And it has a nicer view than Dinosaur, uses better meat than Jumpin' Jacks, and is a veritable haven for local and regional food lovers.
Pirates Lakeside Grill is also home to the $5 grassfed burger.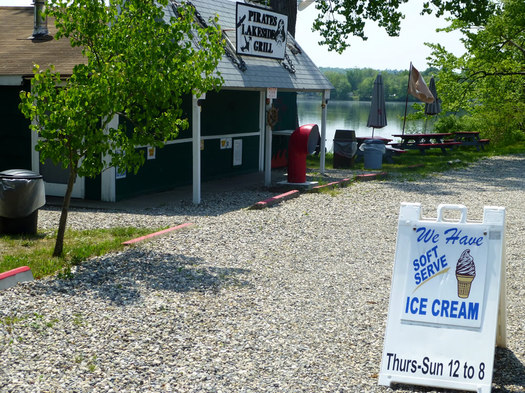 Tucked between East Greenbush and Valatie on the western shore of Nassau Lake is a small seasonal roadside shack. Years ago it used to be Jeanne's Place, but this is the fourth season it's been owned and operated by Michael and Susan Rosenberg.
The place is small. There are a few picnic tables scattered around the shore, protected under the shade of mature trees. But my favorite spot is on the back deck where if you come early enough on a weekday, you can have your choice of one of the three tables right on the water.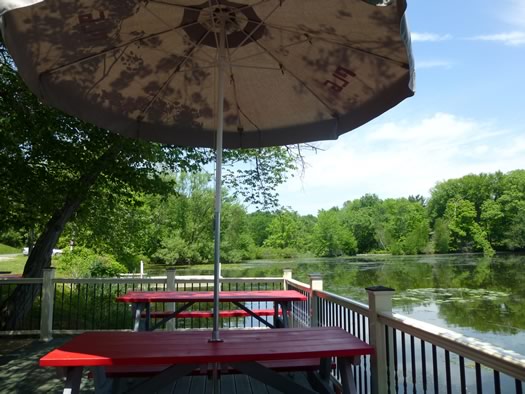 In the evening and on weekends I'm told it draws a pretty good crowd from the local community. But it's still virtually unknown to those of us west of the Hudson, even though many of the foods they serve -- especially from their extensive hot dog menu -- are famous.
Those who long for the foods or Rochester can find a little comfort right here. PLG has both the Zweigle's Red Hots and White Hots ($2.96 each). From farther afield, those from Milwaukee can sing the praises of Usinger's, and you can sample their knockwurst ($3.95), bratwurst ($3.95) and weiners ($2.87) here as well.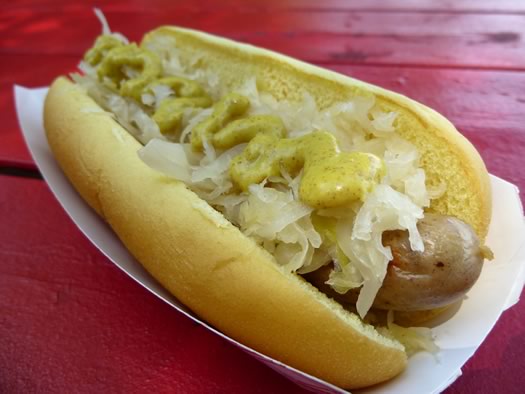 Closer to home Pirates Lakeside Grill has a dog made at Wynantskill's Route 66 Smokehouse ($2.64) and both the sweet and hot Italian sausages ($6.25) from Andy's on Delaware Avenue in Albany.
While those are all made locally, they have one hot dog that's even made from local pork. And not just any pork, either -- this is the organic, pasture-raised, heritage-breed pork from Tilldale Farm in Hoosick. In fact, these nitrate-free dogs are made especially for Pirates Lakeside Grill, and at $3.25 each are a relative bargain.
Speaking of bargains, let's talk about that $5 grassfed burger.
Technically, it's $5.25, and admittedly it's not huge. This is a modestly portioned four ounce patty. However it's from Sweet Tree Farm in Schoharie County, which not only raises its cows on grass, but finishes them on grass, too. They sell at the local farmers markets in Troy and Schenectady, and their meat isn't cheap.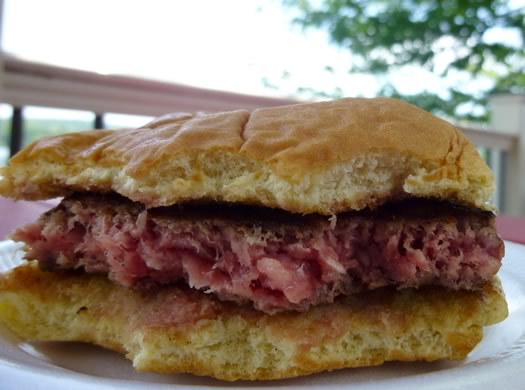 Knowing the size of the patty and given the rustic feel of this food stand, I expected the burger to be cooked all the way through. So I was a little taken off guard when asked at the ordering window, "How would you like your burger done?" And just like I had asked, they cooked that patty to a beautiful medium rare while giving it a tasty crust on the griddle.
But despite its size, with small side order of fries ($1.50) it makes for a satisfying lunch. If you are still hungry, well that's what ice cream is for. And they've got that, too.
To be able to enjoy a cool breeze while sitting under the shade trees on the shore of a lake is a great way to while away the hours of summer. To be able to do the same with a local grassfed burger and hotdog served without pretense for a pittance is remarkable.
It's great to see someone stand up and declare that good food doesn't have to be expensive.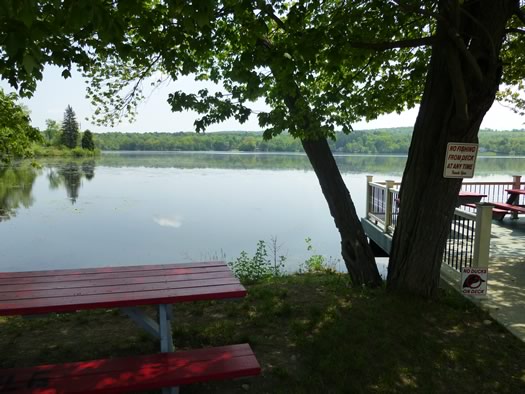 Pirates Lakeside Grill isn't as far away as it looks. I made it parking lot to parking lot from there to The Cheese Traveler (Delaware Ave, Albany) in 25 minutes. And it's a relatively easy pit stop if you are heading out of town on I-90 or on your way to Columbia County or other points in that direction. Just don't try to stop in Monday through Wednesday, because they're closed. All other days they are open from noon until 8 pm.
But don't delay, September 8 will be here before you know it, and then they will close for the season.
Daniel B. is the proprietor of the FUSSYlittleBLOG.
Find It
Pirates Lakeside Grill
266 County Route 7
Nassau, NY 12123
Hi there. Comments have been closed for this item. Still have something to say? Contact us.