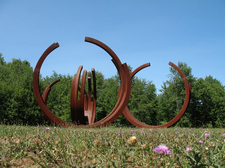 Jenn asks via Twitter:
Hey @alloveralbany, I'm planning a date on 6/28 (or 6/30) for my boyfriend's and my 2nd anniversary. Any ideas of something fun and unique?
My goal would be an activity we've never done before or something hands on, but open to any out of the box suggestions!
We live in Colonie, so anywhere within day-trip distance. Otherwise, anything other than dinner and a movie is great! Thanks!
We get the impression Jenn is in some competition with her manfriend to see who can come up with the best anniversary date, so obviously we want to help her win.
The specific dates make this a bit hard to pick things like classes, but we've come up with three ideas -- two easy day trips, and one class -- after the jump.
Have something in mind? Please share!
Three ideas for Jenn:
1. Columbia County
A bunch of spots in the Columbia County aren't any more than a hour's drive from the Albany area, making it a very easy day trip. We've planned out a day there in the past, but to highlight:
+ Check out the Fields Sculpture Park at Art Omi. Probably not something a lot of people have seen before. Some new pieces will soon will be on display.
+ Olana is a beautiful spot, and it's open for tours on both those days.
+ And Hudson is a fun place to spend an afternoon -- Warren Street is lined with shops and boutiques. And there are a bunch of interesting places to eat.
2. Cooperstown
Yep, the Baseball Hall of Fame is there, but there's other stuff, too. You can take a tour at Brewery Ommegang (and get a tasting). (There's even a Cooperstown "beverage trail" if you're into visiting breweries.) And there's also the Farmers' Museum and the Fenimore Art Museum. It's a nice drive out and back.
3. Cooking close to home
Gio Culinary Studio is offering a cooking class at the Altamont Vineyard & Winery on June 30 at 2:45 pm, which includes a demo, tasting, and wine pairing. Description:
Wholewheat Ricotta Gnocchi, Grilled Vegetable Ragu, Grated Asiago
Students will learn to make hand made ricotta gnocchi and a delicious, savory grilled vegetable ragu from scratch, using local ingredients and professional techniques that are easily duplicated at home.
Grilled Garlic Crostini
Italian Bread, Extra Virgin Olive Oil, Fresh Garlic, Sea Salt Students will learn how to utilize their outdoor grill to make beautiful garlic crostini, perfect as an appetizer or an accompaniment to a nice pasta dish.
You could fill out the day by starting at Jake Moon in Clarksville for breakfast/brunch. And then head over to Thacher Park for a little hiking and taking in the view. And then up to Altamont for the cooking class.
Hi there. Comments have been closed for this item. Still have something to say? Contact us.