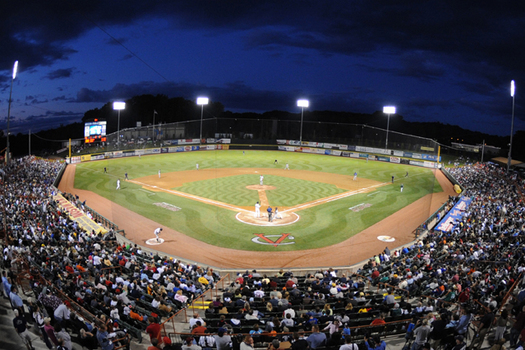 The Tri-City ValleyCats open their 2013 season tonight (Monday) at The Joe versus the Vermont Lake Monsters. They have a three game series with the Lake Monsters, then they hit the road. They'll be back in town June 26 for a long home stand.
The ValleyCats are a farm team for the Houston Astros in the New York-Penn League, which is the "short-season A" level. (Minor league baseball's levels go from rookie ball up to AAA.) And while that's a far throw from the majors, a bunch of ValleyCats have ended up making appearances in MLB -- including Hunter Pence and Ben Zobrist. The Astros had the top pick in this year's draft and took Stanford pitcher Mark Appel -- it'll be interesting to see if he ends up spending any time with the ValleyCats. (He's a four-year college player who's expected to be in the majors soon, so he might start at a higher level). Alas, the immortally-named Stubby Clapp has moved on from the manager's position.
Tickets for ValleyCats games start at $5.50 if you buy ahead of time, so it can be a cheap night out. And, of course, this being minor league baseball, there are a bunch of promotions and theme nights -- everything from 50 cent hot dog night to "bark in the park" (dog night) to bobblehead night. Let's face it: minor league baseball, wherever you go, is sort of a come-for-the-baseball-stay-for-the-zaniness kind of thing. Nothing wrong with that.
At the ballpark with AOA: There are just a few spots remaining for AOA's night at the ValleyCats June 26. We've lined up a luxury box and food -- and one person will get to throw out a first pitch. Tickets are $20.
Yep, the ValleyCats advertise on AOA.
Earlier on AOA: How to win a mayors race at The Joe
photo courtesy of Tri-City ValleyCats
Hi there. Comments have been closed for this item. Still have something to say? Contact us.