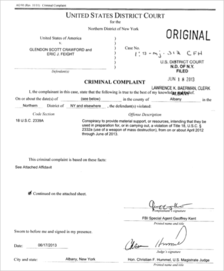 Updated
Federal prosecutors announced today that two men -- Glendon Scott Crawford, 49, of Galway and Eric J. Feight, 54, of Hudson -- have been arrested for an alleged plot in which the two conspired to build a remotely-operated mobile x-ray weapon. From the press release:
The arrests followed a lengthy investigation by the Albany FBI Joint Terrorism Task Force that began in April 2012 when authorities received information that Crawford had approached local Jewish organizations seeking out individuals who might offer assistance in helping him with a type of technology that could be used against people he perceived as enemies of Israel. ...
As charged in a Complaint filed in U.S. District Court in Albany, the essence of the defendants' scheme was the creation of a mobile, remotely operated, radiation emitting device capable of killing targeted individuals silently with lethal doses of X-ray radiation. The defendants plotted to use this device against unwitting victims who would not immediately be aware that they had absorbed lethal doses of radiation, the harmful effects of which would only appear days after the exposure. This was an undercover investigation and, unbeknownst to the defendants, the device that the defendants designed and intended to use was rendered inoperable at all times and posed no danger to the public.
The federal complaint is embedded after the jump.
In the complaint, the feds allege Crawford "identified Muslims and several other individuals/groups as targets." They allege he had contact with the KKK, and that he also tried to solicit support from local Jewish organizations to help build a weapon that could be used against Israel's enemies (the TU reports one of the orgs was Congregation Gates of Heaven in Schenectady) -- the orgs reported Crawford and that put him on the radar with authorities. Feight was allegedly brought in to help build a device for remotely activating the radiation weapon.
The Times Union has more details from the complaint, in which the feds say Crawford never got a hold of a radiation source because an undercover FBI agent was acting as his supplier.
The allegations are unsettling and bizarre. And they prompt a lot of questions about the situation -- perhaps the primary one is whether these guys could have actually pulled off what they allegedly intended to do if the FBI hadn't been running interference.
We talked with a nuclear engineer about just that question this afternoon...
Is it possible to build a death ray?
Peter Caracappa* is on the faculty of the nuclear engineering program at RPI. His speciality is radiation safety and medical applications of radiation.
So, could these guys have built a death ray? Caracappa calls such a device "extremely infeasible."
He says it's plausible the two men could have built some type of radiation device. But it's very implausible that they could have actually built a device capable of delivering a lethal dose of radiation at distance over a short amount of time.
The central difficulty in building a working version of the alleged device is the nature of how radiation works. The intensity of radiation diminishes rapidly as you move away from the source -- it's an inverse-square relationship between intensity and distance.
So, say there was a device that could deliver a lethal dose at 30 cm. To deliver a lethal dose at 300 meters would require a million times more power. "The idea of it might be theoretically possible, but is extremely infeasible because of the tremendous amount of power and or cooling that would be required to deliver a lethal radiation dose in a short period of time."
Caracappa says to fit all that into a van, as the feds allege the men planned, is improbable. He points to radiation machines used in some types of cancer treatment -- their equipment takes up whole rooms in hospitals. And most radiation devices available just aren't designed to deliver the sort of doses necessary. Caracappa says the power on many industrial machines -- which are often designed to operate at short distances -- would have to be increased 100x to deliver a fatal dose in a short amount time. Pushing that amount of power through a device would probably cause its components to melt down.
"Could you theoretically make something that would do what they wanted to do? Maybe. But you couldn't possibly do what they wanted to do with off-the shelf components, even with equipment used in industrial settings."
That said, the subject of radiation understandably makes a lot of people uneasy. That's also what makes it attractive to terrorists. As Caracappa notes, in most situations "the terror related to radiation is more about the fear than the actual damage."
* It's true -- Peter is Mary's husband.
The complaint
Hi there. Comments have been closed for this item. Still have something to say? Contact us.