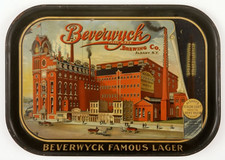 Interesting: Over at DrinkDrank, Craig distills the centuries-long history of beer brewing in Albany to a quick-read 1,500 words. A clip:
[John] Taylor -- initially partnered with his brother-in-law -- opened his first brewery in the early 1820s. A savvy businessman, Taylor saw the opportunity to exploit New York's new water highway [the Erie Canal]. He could import grain and hops from the western part of the state and use the same waterway to export beer west and south down the Hudson. By the 1850s Taylor had built a new brewery in Albany--the largest in the country and was producing a flagship double strength of 'XX' ale, that he dubbed "Imperial Albany XX Ale". Albany's access to the Hudson River and position at the terminus of the Erie Canal afforded it a monopoly on the distribution on beer. Albany Ale could be exported west on the Canal to Buffalo and be in Chicago in ten days later. From there it could be in New Orleans within a week or California shortly there after. It could also be sent south down the Hudson to the port of New York and be anywhere in the world within a matter of weeks.
There's lot packed into this history -- the Dutch, the British army, hops, the Erie Canal, the emergence of lager, Prohibition, craft brewing. It's worth a read if you're interested in local history or beer (or, you know, both).
Elsewhere: Akum recalled when Albany Ale ruled the nation.
image: "Beverwyck Brewing Company Serving Tray" from the collection of the Albany Institute of History and Art
Hi there. Comments have been closed for this item. Still have something to say? Contact us.