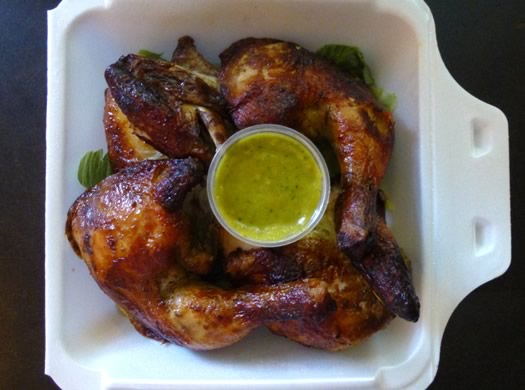 By Daniel B.
French fries, baked potato, or mashed? Cole slaw or baked beans? Sweet plantains or tostones?
Side dishes are ubiquitous, but the choices can vary greatly depending on the cuisine. When you find a dish of warmed marinated olives on the menu, the place obviously has a Mediterranean focus. A side of garlic spiked broccoli rabe clearly indicates an Italian influence.
So what does it mean when a restaurant offers a side order of a whole rotisserie chicken?

In the case of Mr. Pio Pio in Albany, it means that regardless of what you order, you can still get a taste of arguably the best thing on the menu. And it's probably worth mentioning that a side of the whole chicken costs a paltry $8.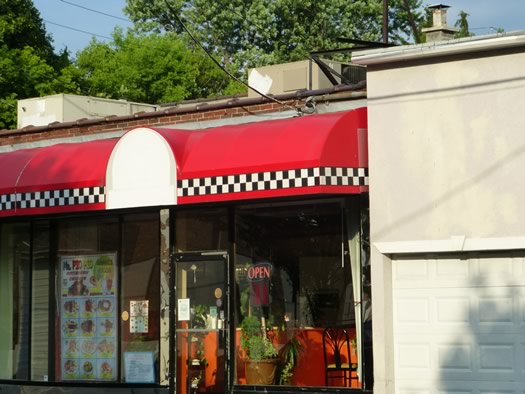 Mr. Pio Pio is the best loved little restaurant that still has yet to fully capture the attention of most Capital Region diners. And it's not for a lack of media coverage. Celina Ottaway wrote a glowing review of it and their whole fried snapper for the Times Union. Albany Jane sang the praises of their chicharrones here on AOA. B.A. Nilsson was equally enthusiastic in his Metroland review. On top of all this, the restaurant is widely loved on Yelp, TripAdvisor and Urbanspoon.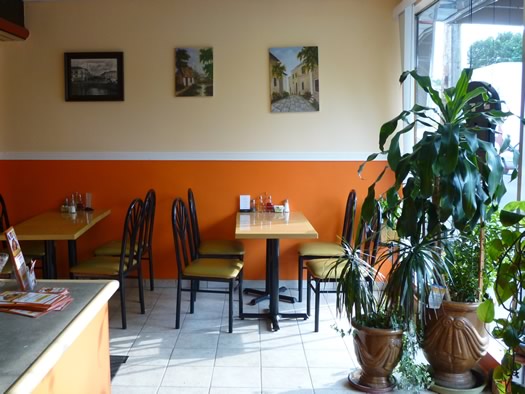 Yet on a recent Sunday evening the small dining room was still only half full.
And of course this predominantly Ecuadorian restaurant was nowhere to be found in the recent Times Union Best of the Capital Region poll. It went without a mention in the Best Mexican/Central/South American restaurant category, behind El Loco and both locations of Bombers Burrito Bar.

Sure, you could blame the neighborhood -- its Quail Street location right in the heart of the student ghetto. The block is pretty charmless, which is probably why the family is moving the operation up the street to Central Avenue in a couple of months. That means you only have a limited time to visit the place in its original location. Then when Mr. Pio Pio becomes an Albany darling, you can say, "I remember going on Quail Street before everyone knew about it."
And there is good reason to go now, especially as the weather heats up, and cooking at home becomes a much more onerous task. The restaurant is deliciously air conditioned and cool even with the afternoon sun pouring in through the window, so I wouldn't blame you for sitting down at a table and enjoying your food on site.
However, getting the meal to go solves a perpetual problem.
Generally, restaurant carryout and leftover leave much to be desired. Fried items steam in clamshell containers. Sauce can congeal as they cool. Dishes that were perfect when originally served can overcook when they are reheated. It's a mess.
But rotisserie chicken is remarkably resilient (as is Mr. Pio Pio's carne asada), and it's the meal that keeps on giving.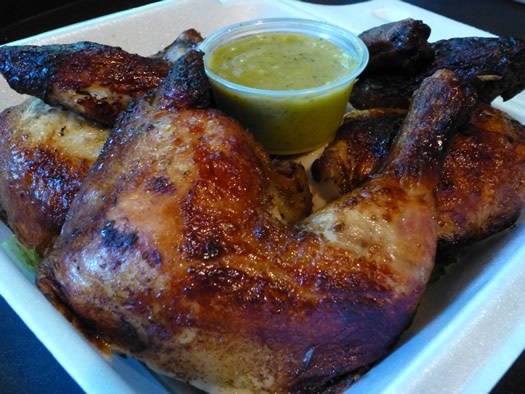 Bring it home and eat the leg/thighs when they are warm with an order of avocado salad for something light and crisp. Then on the second night, you can cube up the chicken breast and toss it with the extra green sauces, for a killer chicken salad. Or take the whole thing out for a picnic. Eat it with your hands, dipping chunks of juicy flavorful chicken into the pots of green sauce -- and try not to smirk about having the best food on the lawn.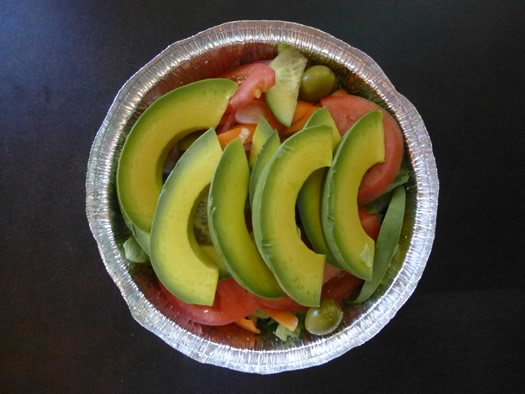 Avocado salad.
And don't feel obliged to get anything else besides a variety of side dishes. Sometimes that's the way to go. But given the relatively high cost of other non-chicken sides to their relative volume, if you are interested in rice, beans, or fried plantains, it's typically best to order a dish where those items are already included, like in the aromatic (if not terribly tender) carne asada.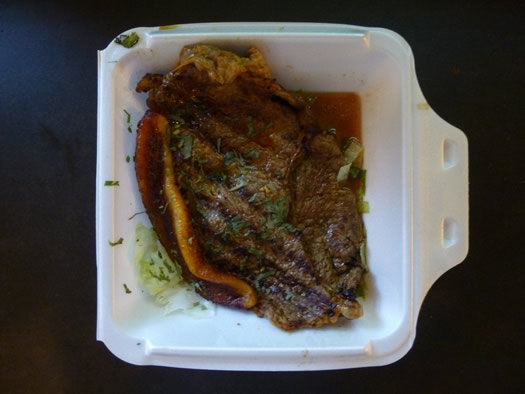 Carne asada.
Their roast pork pernil is deeply seasoned and delicious. At $8.50 it, too, is a bargain. But it comes with French fries, so this would be a poor candidate for take out. If you are eating in, and would prefer to be a bit more modest, you can also simply get a side order of a half chicken for a just $4.25.
I've always wanted to try their flan, but for obvious reasons, I've never had room for dessert.
Sauce
Many people who try Mr. Pio Pio's homemade hot sauces wish they were available for purchase by the jar. Some prefer the fiery red while others flock to the bright and herbal flavors of the avocado green. With the rotisserie chicken I would recommend the green.
Mealeo.com has a handy online interface where you can order as many of these sauces as you like. No, it doesn't come in jars. But for 75 cents you can score a two ounce cup. That's three dollars for about eight ounces, and it's worth every penny, because it will perk up an enrich anything it touches. Put some fish on the grill or sear some scallops in a pan? The green sauce would totally amplify those dishes. And it's perfect for leftovers.
Daniel B. is the proprietor of the FUSSYlittleBLOG.

Find It
Mr. Pio Pio
160 Quail St
Albany, NY 12203
Hi there. Comments have been closed for this item. Still have something to say? Contact us.