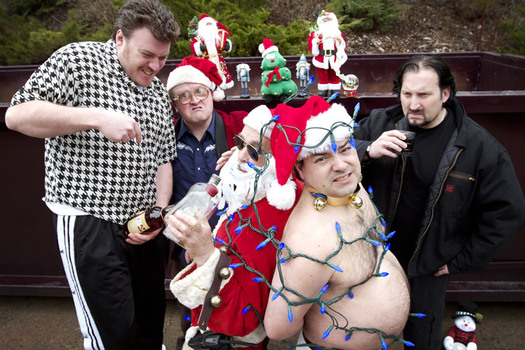 The Trailer Park Boys are scheduled to bring a new live show to the Palace December 12. Tickets are $35 and up -- they go on sale this Friday, June 28. (There's also a pre-sale.)
The Trailer Park Boys are a Canadian mockumentary group that's created a TV series and movies around characters who live in a trailer park in Nova Scotia. From the blurbage for this live tour:
When Bubbles tries to spread the true meaning of Christmas to the world, his good-hearted plans are botched by Julian wanting to cash in on the Festive season and Ricky's relentless pursuit to meet the real Santa. And if that wasn't enough, all three of them have to deal with the very intoxicated Jim Lahey and his cheeseburger-eating sidekick, Randy.
The group played a show at The Egg last year -- and it sold out. So if you're interested in going to see them at the Palace, you might want to think about getting tickets sooner rather than later.