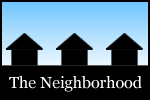 Among the topics in this most recent spin around the Capital Region's online neighborhood: banking on what we have, tales from the garage sale, stage show impossible, Tom Petty, adventures in Watertown, hops, Vermont food and beer, that guy, ladies and the gym, flowers, a crazy deafening noise, cycling the Helderbergs, bikes, a quiz show, Saratoga foods before the super moon apocalypse, king of the wheat germ, Johnny's, the smiling kid from Vorheesville.
Akum: "Forget the aquarium. Let's bank on our history."
Nora shared tales from her garage sale.
Steve was not impressed with Food Network chef Robert Irvine's stage show at Proctors.
Silvia enjoyed the Tom Petty show at SPAC -- the price not so much.
Jon shared some of his recent adventures in Watertown -- example: "This place is like, well, it's like going to Hooters except probably offensive to some Scottish people."
The Fuj took a friend on a Vermont food and beer day trip.
Greg visited the Helderberg Hop Farm.
Stephanie has been looking for that guy at baby stores.
Albany Jane had some advice for ladies at the gym.
Jackie was surrounded by "some of Summer's prettiest flowers" at Moreau Lake State Park.
Katie on the song of the cicadas in Columbia County: "It was crazy deafening. The sound they make comes in creepy waves that actually started to hurt my ears."
Jen was part of a group cycling ride through the Helderbergs.
Randal found a new home for one of his bikes -- and maybe a new friend.
Jona almost got bogged down while hiking.
Chuck is looking to dig up old video of a local TV quiz show.
Carl is now king of the wheat germ.
The Idiots named some of the Saratoga foods they would eat if the super moon was going to kill us all.
Val visited the new speakeasy in the basement of the City Beer Hall.
Daniel compared eggs from Stewart's and Honest Weight.
Jerry checked out the recently-opened Johnny's in Schenectady.
Rob went strawberry picking.
The Masticating Monkey got acquainted with local fish fry and mini hot dogs.
The Exile picked up speed.
And Kristi asked: "Where is the smiling kid from Voorheesville now?"