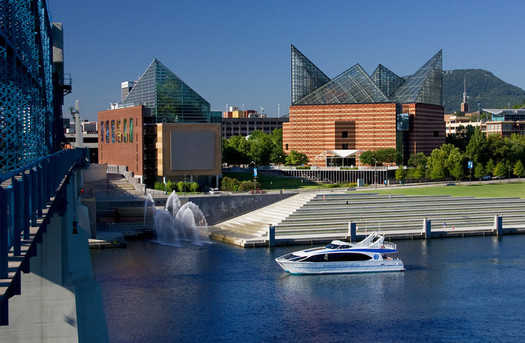 A few more bits about the push for an aquarium in downtown Albany:
Omni and the convention center site
Omni Development continues to advocate for an aquarium/science museum/IMAX theater on the site of the land collected for the stalled Albany convention center project -- despite a cold shoulder from the convention center authority. ( The authority's executive director says it's staying the course of trying to build a convention center until directed otherwise by the state.) [Biz Review] [TU]
Omni has been using the Tennessee Aquarium in Chattanooga as a model for what an Albany aquarium could be -- and today in a press release it urged Jerry Jennings to talk with the mayor of Chattanooga and schedule a trip to see the aquarium there (it even said it would pay for the trip). Jennings told JCE he'd call, but he's not making the trip. [@JCEvangelist_TU]
More details about Omni's preliminary proposal -- along with concept renderings -- are after the jump.
Albany Aquarium
The Albany Aquarium group -- which has been rallying support for the idea on Facebook -- announced that it's organizing a public meeting July 15 at the Albany Public Library main branch. The goal: to "outline their vision and solicit public feedback."
We heard today Nancy Behrens, who's been leading the Albany Aquarium effort, has had a meeting with Omni president David Swawite. "It was a very positive meeting and is encouraging to know that they support the idea of the Albany Aquarium. I hope to continue the discussion with them in the days and weeks to come."
Charette
Speaking of meetings: A group of local architecture firms has offered to organize a charette to facilitate public discussion about the future of the convention center site. As 3t Architects' Scott Townsend told Mike DeMasi: "Basically it should not be fought out through the papers ... It needs to be done in nice, civil manner." [Biz Review]
Aquarium concept for convention center site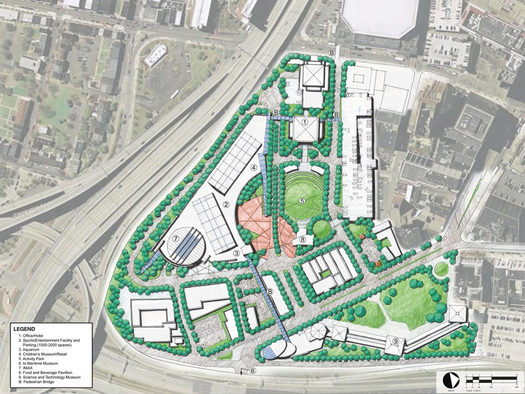 There's a preliminary concept rendering above of the aquarium at the convention center site (large format). From Omni's press release floating the idea:
A new plan to revitalize downtown Albany and the region
Omni Development Company, Inc. has been at work on a substantive plan to help achieve the success that everyone desires for the future of downtown Albany and the entire region. It is a future with an exciting community image, enormous economic potential, and is long overdue.
The concept is to develop a world-class aquarium, including an IMAX theatre and a science and technology museum -- a compelling visitor attraction, a durable cultural/family asset, and an exciting educational force. There are a number of extremely successful such complexes in the United States today, so the benefits are proven, not speculative or based on mere opinion. Better still, there is nothing like it in our region, making it unique across a wide marketing geography.
The economic impact promise is outstanding. Downtown aquariums have not only revitalized cities and downtowns, but have demonstrated long-term capacity to draw people from surrounding communities. Retail and service industries would proliferate and thrive. It would simultaneously serve as an educational and research institution for pre-school through graduate degree levels for outreach, science and ecology studies.
Albany is uniquely positioned, by virtues of geography and community assets, to make this an exceptional success and visitor destination. Firstly, as many are aware, Albany is a natural meeting location for many types of organizations, and the aquarium complex would be an entirely new venue for visitors to come here more often, stay longer, and increase spending throughout the community. Secondly, as a leading educational center, the potential for academic and research programs is excellent. Thirdly, the work force is available to fill jobs created by the aquarium complex itself, and the many other existing and new businesses that will benefit from the increased visitation.
Aquarium complexes are already proven economic engines in numerous cities, as well as centers that define the quality of life and access to all for superior educational entertainment. Two outstanding examples are the National Aquarium in Baltimore, and the world's largest aquarium, The Georgia Aquarium in Atlanta. Yet, it is not just larger cities that can benefit. One of the best and most visited aquariums in the country is the Tennessee Aquarium in Chattanooga.
The Chattanooga market is somewhat smaller than Albany/Schenectady/Troy, but close enough to provide a useful, conservative comparison. And since Albany is larger, we could reasonably expect to achieve even greater success. The Chattanooga market population is 535,000 in 213,000 households, and Albany/Schenectady/Troy has 872,000 persons in 355,000 households. Our median household income is $63,000 compared to Chattanooga's $48,000. And, Chattanooga is about 120 miles from Atlanta with the world's largest aquarium, so that situation is roughly equivalent to our juxtaposition/competition with New York City. Attendance at the Tennessee Aquarium in 2011 was 657,443 with an economic impact of $77.4 million/year. Aquarium revenues were $19 million in 2010. Employment is 150, plus 650 volunteers. Capital funding was $45 million initially (opening in 1992), plus $35 million for a subsequent major expansion.
Such results for Albany would produce major new growth, new income, new jobs, and a greatly enhanced reputation for community leadership and fiscal resourcefulness. Moreover, with a strong emphasis on family visitation, the concept offers sustainable vitality -- it is not a fad or trend that fades. As long as there are new families, and new children growing up, there will be a naturally replenishing market of visitors for whom an aquarium has magnetic appeal.
It would be astute for the Convention Center Authority to take the role of developer, and move ahead promptly: CCA owns the land, has major funding available, and has accomplished much site work. And, should a major commercial tenant show interest, Omni owns a contiguous site with preliminary plans prepared to satisfy a variety of large space needs, including perhaps a hotel.
We at Omni know that a properly developed aquarium complex will bring extraordinary success, and usher in an exciting and economically vigorous future. Omni is an Albany company with decades of experience in developing Albany's commercial and residential assets. We are guided by our love of this beautiful area and the conviction that a great future is at hand. We hope that concerned residents, community leaders and the Convention Center Authority will join us in taking the necessary steps toward this new public/private partnership -- achieving a gleaming image and a cultural treasure for all families, residents and visitors to experience and enjoy.
image: Omni Development / MLG Architects
Hi there. Comments have been closed for this item. Still have something to say? Contact us.